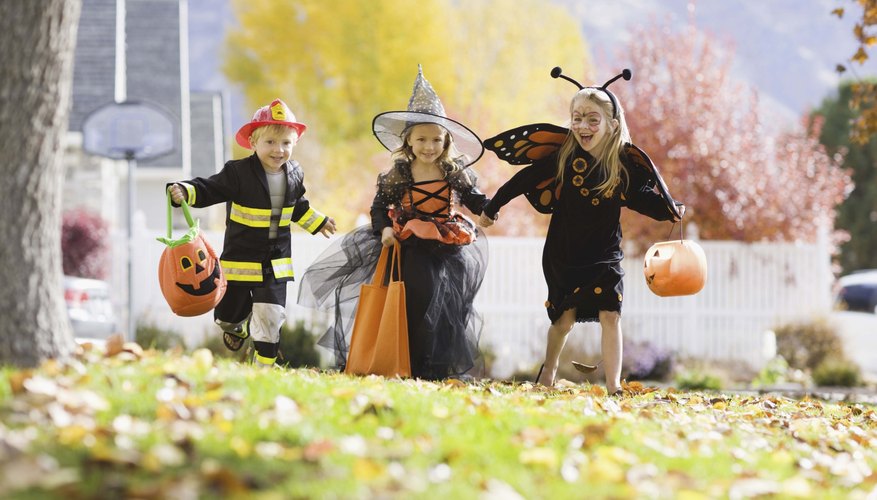 Halloween is an exciting and highly anticipated holiday for children. For most kids, the highlight of Halloween is a night of trick-or-treating with family or friends. Aside from the excitement and anticipation, parents and children should also work together to ensure a safe night. By following a few preventative guidelines, trick-or-treating can be both a fun and safe annual event.
Safe Costumes
Picking or creating a safe costume is one way to keep kids safe while trick-or-treating. There are many things to consider when assessing the safety of a costume. Swords, weapons, or other props should be soft and flexible. Masks should allow full visibility. If costumes do not have light-colored fabric, consider adding reflective tape for safety. Children should also wear comfortable, supportive shoes if they are going to do a lot of walking. Lastly, costumes should fit well without excessive baggy fabric that might cause tripping.
No Eating Uninspected Treats
Before your kids begin trick-or-treating explain that they should not eat any treats they collect before you have a chance to inspect them. Let them know that although it's not typical, sometimes, bad people put bad things in treats that might be harmful to them. You should then check each child's treats for unwrapped items, homemade items, and any other suspicious or dangerous items -- and dispose of them. If your child has any food allergies, read the labels of all the treats to ensure that your child doesn't eat anything that will cause a reaction. Also, you might want to give your child only a certain amount of treats to eat at one time, so there's no temptation to gobble up all the treats immediately.
Carry a Flashlight
Carrying a flashlight will add protection and safety to any child's costume. From avoiding dropped items to staying mindful of curbs, a flashlight will help children travel safely from one house to another. In addition, carrying a flashlight will make groups of children more visible to drivers. Always make sure your children's flashlights are loaded with fresh batteries before they set out on their night of trick-or-treating.
Stay Together
Trick-or-treating usually occurs after dark when dangerous circumstances are more prevalent. Insist that your children stay together in a group, or trick-or-treat with a trusted adult if they are young. An adult can ensure that the kids follow rules, such as walking on the sidewalk, crossing at crosswalks, and not stopping to talk with strangers. If the kids are older and trick-or-treating on without an adult, review safety rules with the group before they leave the house to remind them of your expectations.