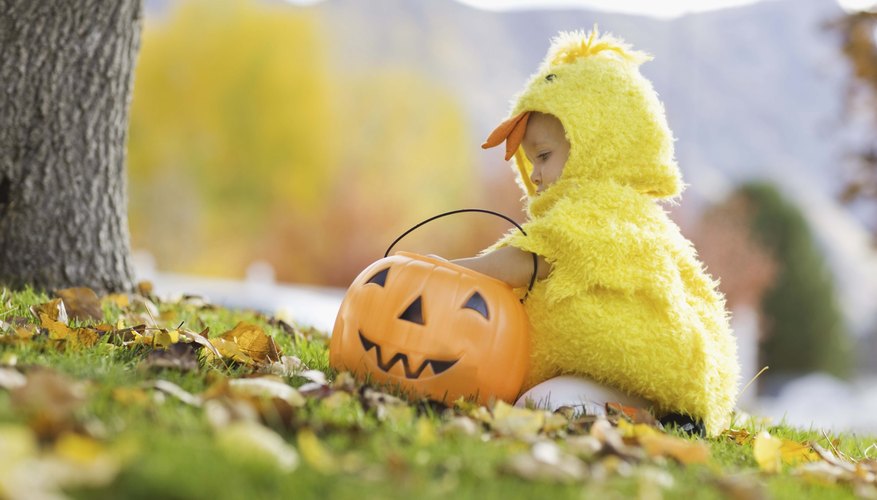 Although fall in sunny San Diego may seem more like summer, this southern California city doesn't slack on the Halloween activities for kids. Whether you're looking for a pumpkin patch, haunted house, fall festival or other fun-filled family outing, there are Halloween festivities galore around town for kids of all ages.
Pumpkin Patches
If your little one wants to pick his own pumpkin, San Diego features an array of pumpkin patch options. Bates Nut Farm's annual pumpkin patch has been a southern California tradition for more than four decades. Kids and families can choose from pumpkins in an array of sizes and colors daily through Halloween. Oma's Pumpkin Patch has a fee-for-spree admission charge. This includes a free Jack pumpkin, a bottle of water while searching and activities such as a hay maze. The Lavender Hill Pumpkin farm is a mega-sized patch with pick-your-own activities just outside of San Diego.
Haunted Houses
Older kids and teens can get spooked at one of the San Diego area's local haunted house Halloween attractions. Located in San Diego's Gaslamp District, the Haunted Hotel features the Hellavator to take you to Freddy Krueger's workshop, a Texas Chainsaw Massacre theme and other thrills and chills. Another option is the Haunted Trail at Balboa Park. While this outdoor woodsy Halloween attraction technically isn't exactly a house, it features similar spooktacular scares for kids aged 10 and up.
Festivals and Activities
Fall festivals often feature a Halloween theme, kiddy rides, food, petting zoos and much more. San Diego's Pumpkin Station's locations in Del Mar, Mission Valley, Chula Vista and El Cajon all have festival-like attractions from the start of fall through the Halloween holiday, including rides, giant slides, petting zoos, games and hayrides. For an over-the-top Halloween fall festival, Sea World San Diego's Spooktacular features spooky, kid-friendly, live performances that include the characters of Sesame Street, holiday-inspired treats and an undersea pumpkin patch. The Mountain Valley Ranch's yearly fall pumpkin patch and festivities feature a sizable selection of pumpkins and gourds, along with Indian corn, a petting zoo and a corn maze.
Trick or Treating
On Halloween night, San Diego kids can take to the neighborhood streets for an evening of trick or treating. If you don't want to walk around your immediate area, there are a few area options that allow your little one to ask for candy without going up to strangers' homes. The Little Italy district sponsors a Halloween night trick or treat at local business on India Street. Another option is the Sea World San Diego Halloween Spooktacular's trick or treat at 13 different park-wide locations.