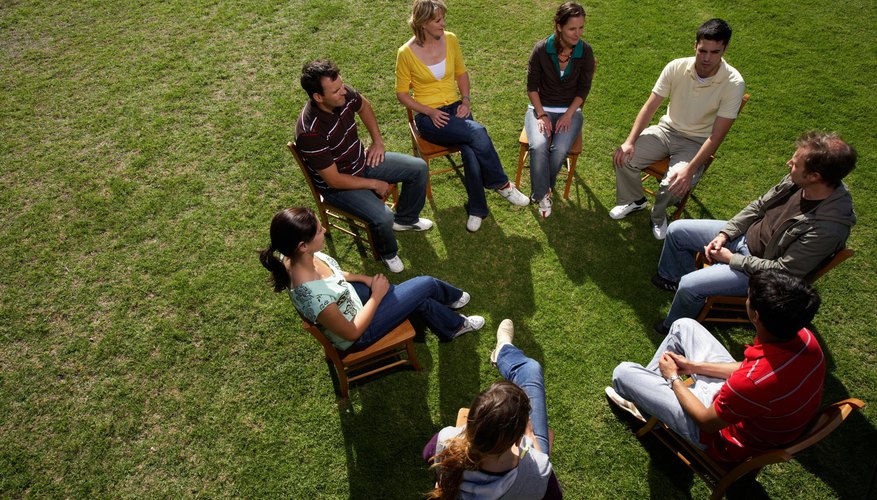 No matter what their age, people who have had their parents commit suicide can benefit from groups offering services specifically designed for survivors of suicide. Some of these groups are found online where anonymity might be of more benefit, and some are national groups with chapters found in most states.
Survivors of Suicide
Survivors of Suicide is an online forum designed for people who have lost a loved one to suicide. A membership fee is required after a 14-day trial -- the website states that the fee goes toward maintenance, overhead costs and the allowance of more personal contact among members. The site also specifies that it does provide helpful material available for free. For those who register, certain rules must be followed, such as avoiding posting suicide threats, treating others with courtesy and respect, and not posting inflammatory messages.
Children's SOS Bereavement Support Group
The "SOS" in their name stands for "Survivors of Suicide," and this support group offers children an eight-week support group intervention where they can meet other children whose parents have committed suicide. While providing children with grief counseling and education, the support group also gives children an opportunity to be in a comfortable environment where they view the other children as friends, not just other children who have also had a parent commit suicide.
American Association of Suicidology
This website is for anyone who's been affected by suicide, but those who have had a parent commit suicide might benefit from it, too. It posts suicide support groups in every state, and uploads resources such as journal articles for suicide survivors. Once a year, the American Association of Suicidology has a national conference -- the 2014 conference is in Los Angeles with the theme of "Never Alone." It invites the public to submit papers to present at the conference, and invites people to take part in workshops and poster sessions.
American Foundation for Suicide Prevention
This website offers survivors of parental suicide many resources and options, such as free access to research, literature on understanding suicide and membership to the Survivor e-Network. It also offers a list of where to find support groups by zip code and what to expect at the meetings, and how to find a therapist and possible questions she should ask. Lastly, the site links to hundreds of conferences in cities around the world that take place on the AFSP International Survivors of Suicide Day.