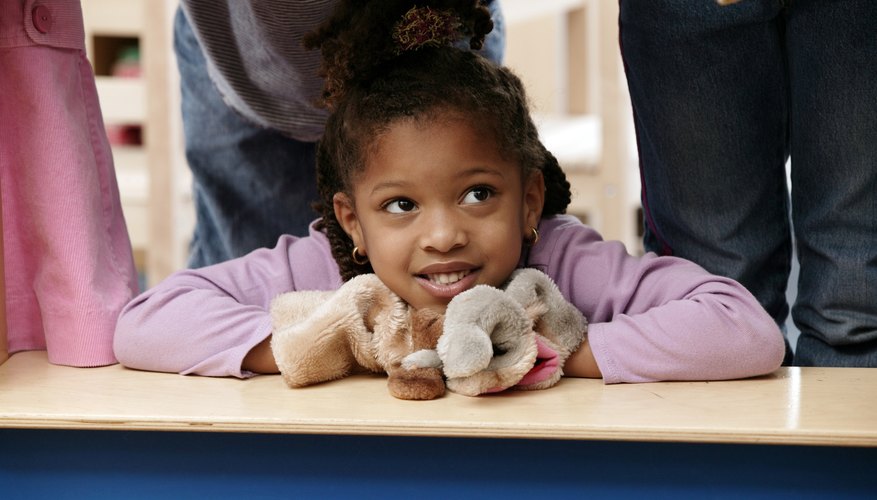 As your child leaves the preschool years behind and enters kindergarten, she is developing -- according to the experts at PBS Parents -- a better ability to engage in dramatic play and create skits and themed stories. Whether you are staging an at-home performance as a rainy day activity or are looking for an idea for a school play, finding a good story for a puppet show is key.
Fables
Fables, or stories that teach a lesson, make ideal scripts for a kids' puppet play. These life-lesson tales typically include colorful characters such as animals that speak. This allows your child to turn simple puppets such as cats or a fox into a cast of characters for a fable story play. Try one of Aesop's famed fables that have a log history of being told and re-told for generations dating back over 2,000 years ago such as "The Fox and the Goat." "The Frog and the Ox" or "The Town Mouse and the Country Mouse."
Fairy Tales
If you are looking for a fanciful story filled with imaginative characters for a performance-worthy puppet play, fairy tales are good stories for your child to use. These familiar stories are tales your child has probably heard through books or even movies. Select a story that matches puppets that you already have on hand or make your own paper bag or stick puppets to match the cast of characters. Well-known fairy tales that your child might enjoy using include "Cinderella," "Hansel and Gretel" and "Rapunzel."
Favorite Books
If your child is looking for a more modern story to use as the script for a puppet play, have her choose a favorite book. This might include a beloved tale or a story that features a favorite character. Younger children should choose a picture book or easy reader. Older kids in the upper grade school years can select a chapter book or a series such as Rick Riordan's "Percy Jackson" saga. If your child chooses a longer story, condense it into the main parts to make the puppet play a reasonable length or pick one chapter for a special scene.
Movies and Plays
Whether your child watches the same movie over and over or can't stop talking about a theatrical play that you took him to see, these scripts can make imaginative stories for a pint-sized puppet play. Take one scene from the entire story and turn it into a child-friendly performance using ready-made or hand-crafted paper bag puppets. Another option is to have your child point out the main characters and the primary points of the movie or play to make an abbreviated version of the movie or play for his puppet project.