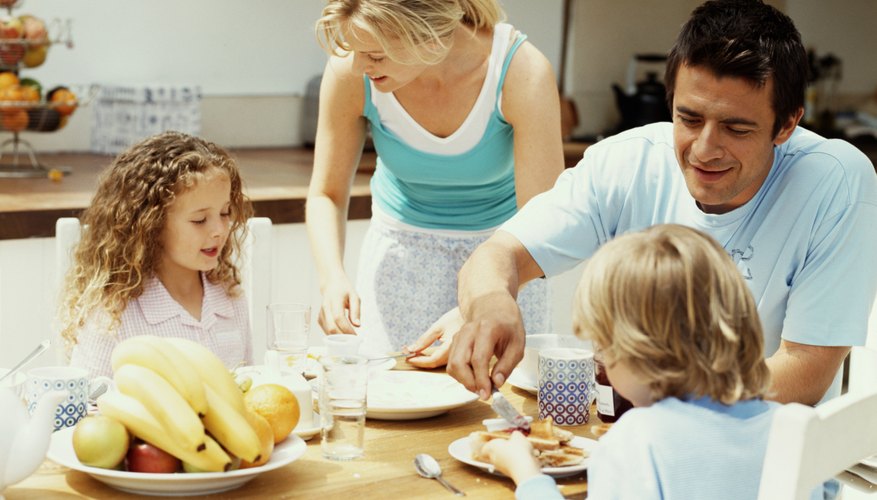 In the year 2012 alone, 70.5 percent of all mothers were either working or actively looking for work, according to the U.S. Bureau of Labor Statistics. That said, joining the mom-powered workforce isn't exactly easy, and balancing a career and children is often challenging for many moms. If you're considering re-entering the working world, look for a career that meets your economic needs, fulfills your professional desires and is conducive to keeping up with your family life.
Educating Other People's Kids
Although spending your days coming up with fun-filled activities and ways to help your own little learner to develop certainly has its merits, teaching other people's children can be as rewarding as working with your own. If you get pure enjoyment out of teaching your children, a career as an educator is a profession to consider. Working as a teacher in a public or private preschool, elementary, middle or high school may align fairly well with your own family's schedule, meaning that you won't have to stay at the "office" until late at night or work on weekends. As an added bonus, you'll get your summers off. Additionally, if you're returning to work for financial reasons, the U.S. Bureau of Labor Statistics notes that the median national salary for grade school teachers is $51,380 and $52,230 for high school teachers as of 2010.
In-Home Care
You're already taking care of your own kids, so why not add in one or two to the mix? Providing in-home care as a babysitter or as a home-based daycare provider will bring in extra income without overly interfering with your child's schedule. You can keep your younger child home with you, instead of dropping her off at daycare, and you'll already be at home when your older kids return from school. When it comes to holidays, snow days or summers, you'll have no extra need to find a babysitter or child care for your own brood. Before moving forward, however, check with your state or local child care licensing agency to ensure that you comply with all of their requirements. If you do need to get a child care provider license, you may need to make changes to your home -- such as adding a fence around a pool. You may also need to complete a class or orientation program on in-home provider rules and regulations and have an official inspection, according to the California Department of Social Services.
Helping Other Moms
In their list of the 100 best jobs for moms, CafeMom ranks lactation consultant and doula as top 10 career choices. Put the knowledge that you have accumulated over your years of mommy experience to use by helping new mothers learn the basics or make it through the transitions that childbirth brings. Although you may self-proclaim yourself an expert on all things baby, you'll need real training before pursuing either of these career paths. According to the Texas Department of State Health Services, lactation consultants must have clinical knowledge of the profession gained through either classes or hands-on supervised work experience. After completing your training, you'll want to take the International Board of Lactation Consultants Examiners certification exam before you start your own professional practice. Likewise, future doulas should take workshops or classes on helping moms through and after childbirth from an authoritative organization that offers certification such as DONA International.
Keeping It Free
Whether you have put your journalism degree on the back-burner after starting a family, have extraordinary organizational skills or are a creative designer, the freelance field has much to offer the working mom. CafeMom notes that freelance jobs provide working mothers with the flexibility that they may need while raising a family and may cut out extra time expenditures, such as a traffic-fraught ride into work. Although there's no guarantee that you'll have consistent work -- or a consistent paycheck -- working as a freelancer allows you to pick and choose your schedule, working around your children's school, sports and social lives.