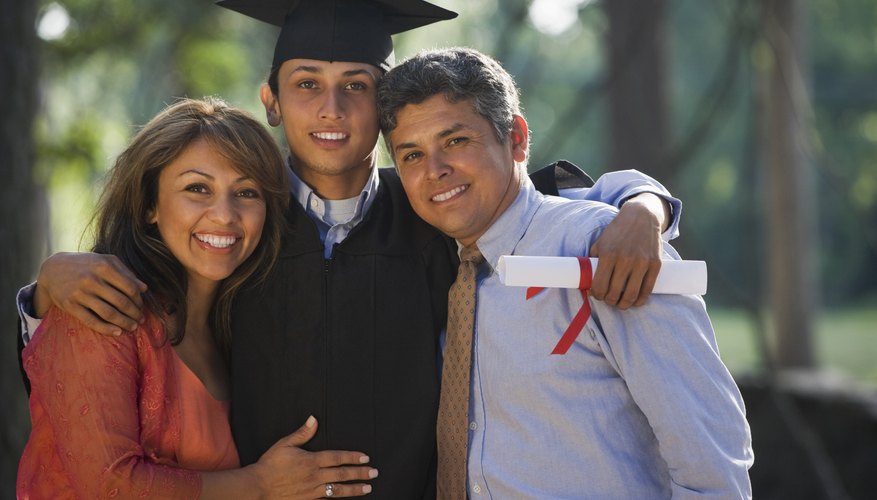 High school graduation is the conclusion of over a decade of studying and hard work, and the start of a teenager's adult life. Graduates enjoy when loved ones indulge them with gifts commemorating this major accomplishment. Peggy Post suggests asking your graduate for gift hints or even a wish list. In lieu of a list, here are several gift ideas that will please the majority of grads.
Monetary Gifts
Cash or a check are practical gifts that your graduate will surely appreciate. He might use it for summer fun, to buy dorm room supplies or to start a savings account. Do not give more than you can comfortably afford to; remember that it's the thought that counts and give what you would have spent on a store-bought gift. For fun, you can purchase an inexpensive piggy bank or wallet and put the money inside, or simply present it in a graduation card with a personal written message.
Technology Gifts
Young adults use technology every day, so consider an electronic gift for your graduate. With a tablet computer your recipient can read books, browse the internet and manage email, watch videos and choose from a huge selection of fun and useful apps. A USB drive, available in novelty shapes and trendy colors, is perfect for the graduate who has a vast collection of digital data to store. For tech-savvy fitness buffs, Good Housekeeping recommends activity tracking wristbands, which track calories burned, steps taken and also function as watches.
School Supplies
The college-bound graduate needs supplies for school whether she commutes or lives on campus. A messenger bag, personal planner or travel auto mug will help make a commuter's life easier. For the future dorm resident, choose a laundry bag, lapdesk with lamp attached or a mini refrigerator. You might also purchase your graduate a quality dictionary and thesaurus, or a book relating to the major or career he is pursuing. Encourage your graduate's collegiate pride by purchasing a sweatshirt, hat or umbrella from the college she is set to attend.
Gift Cards
A gift card is a great gift for a high school graduate because it allows him to treat himself. A tech-savvy graduate will appreciate a gift card for a computer store or iTunes, while a bookstore gift card is perfect for one with academic interests. Consider a gas card for the graduate who will be commuting to work or school. Gift cards to movie theaters or restaurants will allow your recipient to enjoy the summer following graduation or splurge on a night out during his freshman year. For the graduate who has everything, consider a Mastercard or Visa gift card.