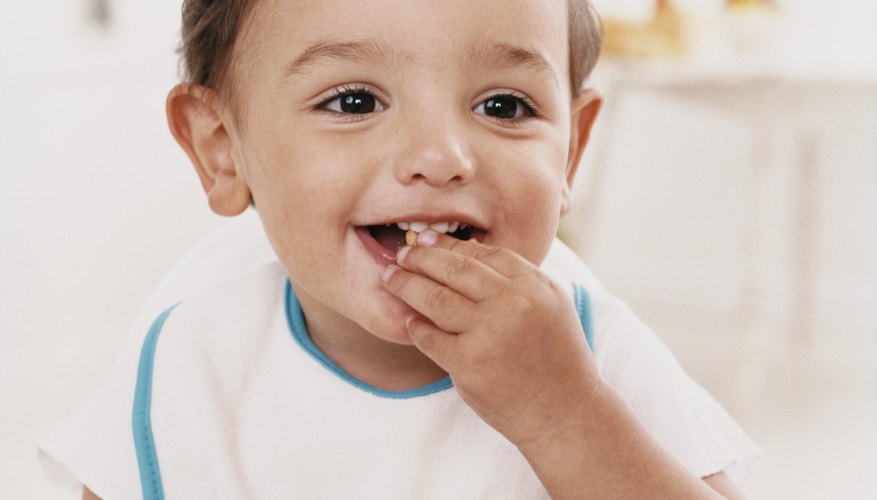 With the media focus on overweight children, parents sometimes forget that underweight children are in danger of poor health too. However, just filling up children with fatty and sugary junk food creates bad habits and doesn't help their health either. The good news is that parents who want to help their toddlers gain weight have many healthy options.
Nuts and Seeds
Nuts and seeds are high in fat, but high in a wide range of vitamins and protein. Both can be snacked on plain or added to other foods to give them a caloric boost. Nuts can pose a choking hazard, so grind or puree them before offering the nuts to your child. Add ground nuts to oatmeal, yogurt or applesauce. Grind sunflower seeds and pecans and use them instead of bread crumbs to coat homemade chicken nuggets. If your child handles peanuts well, add peanut butter to smoothies. Thin your peanut butter with a little extra peanut oil and use it as a dip for apple slices.
Dairy
All weaned toddlers should drink whole milk. These little ones need the extra fat that whole milk provides. Whole milk should also be the first ingredient in dairy products such as yogurt, cottage cheese and ice cream. When making oatmeal or cereal with milk, use half and half instead to add calories to the child's diet. Give your child soft, spreadable cheeses since these are higher in calories than hard or aged cheeses.
Fruit
Fruit can be helpful whether trying to lose or gain weight. Fruits are high in sugar, making them natural toddler magnets. They also have a wide range of vitamins and minerals. Help the toddler dip slices of apples, pears and banana into dips made from yogurt or nut butters to add calories. Removing the skin of the fruit lowers the fiber content, making the fruit slightly less filling. Another trick is to offer dried fruit, which has more concentrated calories.
Grazing
When and how you serve the toddler is as important as what you serve. It is normal for toddler to want the same foods over and over again. Make sure that your underweight toddler has access to food throughout the day. Try packaging small amounts of nutritious snack foods in little bags that he can reach whenever he's hungry. Try filling the different compartments of a muffin tin, ice cube tray or food storage container with different foods. Fill one compartment with a high calorie dip such as a peanut butter dip, vegetable dip made with yogurt or sour cream or salad dressing. For safety, seat your child in a chair when eating.