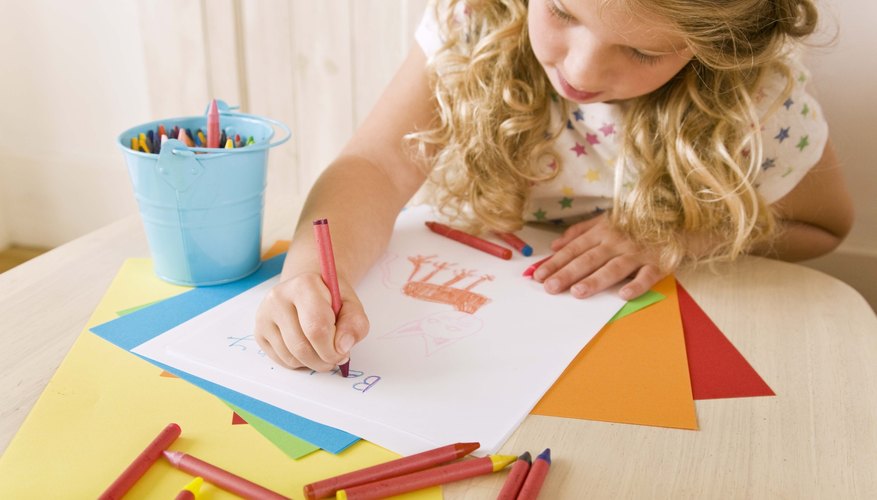 There will always be times in a child's life when he won't be able to play with a friend or sibling. Though he may be disappointed, he can still engage himself in fun activities. Introduce your child to some activities he will be able to enjoy independently.
Pretend Play
Pretend play will allow a child to use her imagination to pretend she is someone -- or somewhere -- else. Let her use simple items around the house that encourage imaginative independent play. Dress up items can be ideal for pretend play. Let her dress up like a doctor with a white coat and pretend stethoscope and use stuffed animals for sick patients. She can pretend she is preparing a meal for restaurant customers with a chef costume and play kitchen. Even a simple cardboard box can encourage her imagination -- she can step inside and pretend to drive a car or fire truck.
Arts and Crafts
Crafts should not require the use of scissors or glue as both can pose dangers while working alone and require adult assistance. Let your child make his own art creations with stickers. You might let him decorate a visor that represents an interest or hobby he has like basketball or dinosaurs. He can also create his own greeting card collection by folding card stock in half and placing stickers and drawing pictures on the front of the card. He can store them in a box and give them out on the appropriate occasion like a holiday or a birthday.
Writing
Alone time will give your child the opportunity to brainstorm and express herself through the written word. She can create poems, short stories or even a book of jokes. Let her use other books as inspiration to write her own. Give her a blank notebook and let her write and draw accompanying pictures. Have her write a title on the front so readers will know what her book is about. Another option is for her to write her own restaurant menu. She can fold a piece of construction paper in thirds and write what foods she would like to serve to customers in her own restaurant.
Games
Games can be used to keep your child entertained during solo play. Let him set a timer and play games against the clock. He can set out a puzzle or blocks to build a tower to see if he can complete the project in the allotted time. Memory card game sets are another option. He can shuffle the cards and place them face down on the table, then pick up two cards at a time to see if they match. If the cards do not match, he must place them back down. He can continue playing until he able to find all the correct matches for the cards.