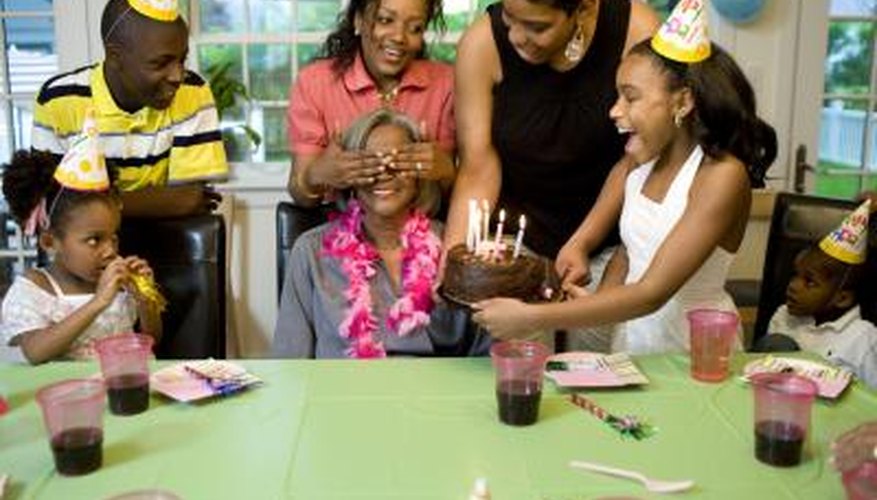 No matter how old you get, birthdays are a big deal for most people. Developing a birthday surprise can be a fun way to celebrate a child or adult's birthday. Whether you are throwing the birthday boy or girl a party or want to find a gift that will be a fun surprise, there are variety of ideas that will help to make this birthday one to remember.
Surprise Birthdays For Adults
For a birthday girl that may feel a bit down because she is getting older, consider a birthday party theme that celebrates all the "cool" things that are linked to the generation she comes from. For instance, the decade she went to high school or college would be a good choice. Host a dinner at the recipient's favourite restaurant or outdoor setting. There are a variety of venues you can consider as a location for an adult birthday celebration including a playhouse, if the recipient enjoys the theatre, or a park if the recipient is the outdoorsy type. Since it is often difficult to actually surprise an adult, one approach would be to hold this party the day before the actual birthday.
Surprise Birthdays For Children
For a child, a themed birthday party can be a fun approach to take. For example, you might do a party that reflects his favourite superhero or includes characters from his favourite television program. A Sesame Street theme can be the perfect way to celebrate an upcoming birthday. For the surprise, hire a children's party entertainer or rent a costume from a party shop that matches your theme. Then an adult can dress up and come running out to surprise your child with his favourite character at his party.
Surprise Birthdays for Teens
As any parent knows, most teens are focused on friends and therefore no birthday party would be complete without inviting your teen's friends. While it isn't always easy to judge what type of party your teen might like, there are a few ideas that you can use to plan a teen birthday party. One approach is to plan a surprise birthday party at your teen's favourite hangout, whether that's a skating ring, bowling alley or his favourite restaurant. Arrange it so your teen's friends just seem to be taking him to that place, and then you and the rest of the guests can spring the surprise.
Seniors
Most seniors who are having a birthday want to have their friends and family gather for the occasion. A good approach would be to treat the birthday as a kind of family reunion, with guests and activities that are geared toward allowing the recipient to reminisce. This can include a surprise "this is your life" kind of approach in which friends and family relate anecdotes about the guest of honor's life.