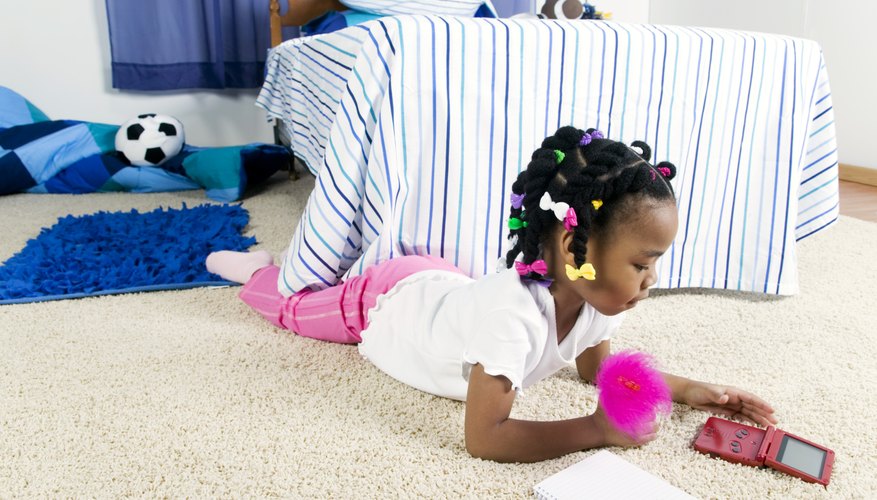 Your 4-year-old daughter likely has some strong preferences about what she likes and what she doesn't. Remember the temper tantrum about the outfit you chose for her this morning? But you can use what she really loves as a starting point for decorating a comfortable place for her to play and slumber. Ask your daughter what kind of bedroom she wants and what color she wants to paint it. Give her some decorating control and she's more likely to love her new bedroom, at least for a few days until she decides she loves something else even more.
Fairies
Most 4-year-old girls love all things fairies and sparkles, so use that to decorate her bedroom. Paint the walls pale pink and green and stencil on pictures of tiny fairies. Much to the delight of your little woodland sprite, many craft stores also sell glitter paint, which will make those painted fairies really stand out. You might also paint a mural of a fairy forest on one of your daughter's bedroom walls. Add pictures of fairies on the walls, suspend tiny stuffed fairies from the bedroom ceiling or hang delicate twinkling lights. Finish the bedroom off with fairy-festooned sheets and blankets or linens that coordinate with the colors of the walls.
Flower Garden
Let your daughter immerse herself in the world of flowers by creating a colorful garden in your bedroom. Paint the walls pale green and choose two or three colors to incorporate into the flowers. Stencil a variety of flowers onto the walls and paint them with your chosen colors. Make the garden even more realistic by adding butterflies, birds, bees and ladybugs or by painting a white picket fence along one of the walls. Give your little gardener something to dream about as she falls asleep by painting her ceiling blue and adding white puffy clouds in interesting shapes. Add a vase of fresh flowers because what girl doesn't enjoy getting a bouquet of beautiful blossoms?
Animals
If you have an animal-lover on your hands, create a bedroom based on her favorite creatures. Paint the walls green and stencil on a mural of jungle trees with swinging monkeys, prowling jaguars and creeping insects. Use blue on the walls and add fish, octopuses, dolphins and sea stars. If that seems too ambitious, paint the walls a neutral color and hang framed posters of your daughter's favorite animals on the walls. Take the theme even further by buying animal print sheets and blankets. Add an array of stuffed animals for your little girl to love.
More Ideas
Paint the walls a bright color and then stencil polka dots in a variety of complementary shades across the walls. Add polka dotted bedding and a giant circle-shaped rug. If your daughter is a book-lover, include several bookshelves packed with books in her room. Place a soft chair in one corner to create a cozy nook for your little reader. Use your daughter's favorite dolls as inspiration. Paint the walls a complementary color and choose bedding in similar shades. Frame a few dolls in shadow boxes and hang them on her walls. Display her dolls on shelves or on tiny chairs placed on top of her dresser or bookshelves.