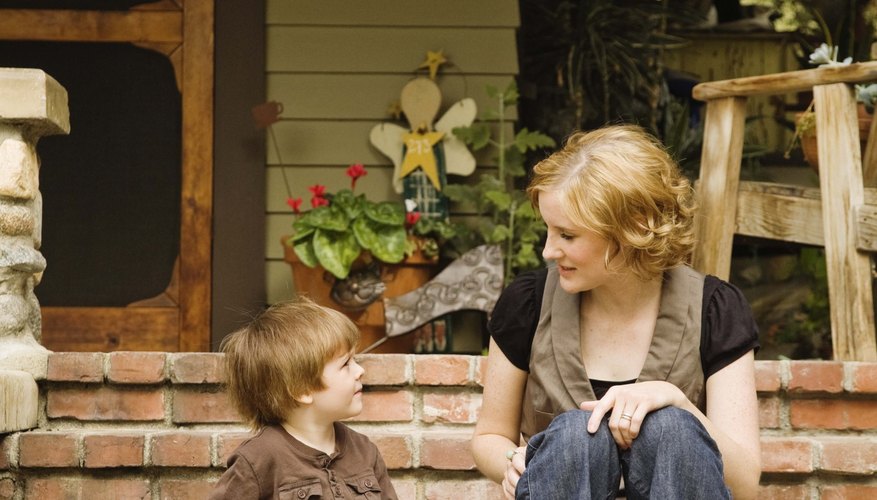 According to the American Academy of Pediatrics' Healthy Children website, toddlers and preschoolers over age 3 are developing fine motor skills that include using kids' safety scissors, drawing simple shapes and even writing a few letters. Parents can help to build these abilities -- and the basics behind them such as eye-hand coordination and dexterity -- by using fingerplay activities.
Background
Fingerplays are simple rhymes or songs that have accompanying finger and hand movements. The movements are easy enough for a toddler or preschooler to follow. While these activities are certainly entertaining for the young child, they are also educational tools that can help to build fine motor skills such as dexterity as well as language and cognitive abilities. If you think that fingerplays are solely for use in the preschool or day care setting, think again. Parents can use these tiny-tyke teaching tools at home for fine motor development.
Number Fingerplays
Add a pinch of math learning, along with the fine motor development, to your child's fingerplay activities. Your little learner's hands are ideal for counting on, making it easy to work the small muscles of the hands and fingers. The National Association for the Education of Young Children recommends math-related fingerplays that include "Five Little Monkeys" -- your child can use all five fingers to swing back and forth like the rhyme's monkeys in the trees -- or "One Little, Two Little, Three Little Snowflakes" -- your child can hold up the numbers of fingers one through 10 for each of the snowflakes in the fingerplay.
Fingerplays for Infants and Young Toddlers
The national early childhood organization Zero to Three suggests that parents use easy fingerplays to work out fine motor skills with infants and young toddlers. Instead of trying more intricate counting games or rhymes that have more sophisticated movements that go along with them, use a simple clapping fingerplay such as Pat-a-Cake with your very young child. This simple rhyme encourages your infant or toddler to clap his hands together, pretend to stir cake batter in a circular motion, roll his hands and pat his leg. Another easy fingerplay for children of this age is "The Wheels on the Bus." The rolling hand motion is simple enough for even a 1-year-old to master.
Themes
Try choosing a fingerplay theme that matches your little one's interests and fine motor skill level. If your preschooler is a bug enthusiast, the fingerplay "Here is a Beehive" lets your child clench her fist like a hive and open her fingers one at a time like buzzing bees. Likewise, if your toddler enjoys feathery, fluttering friends, "Five Little Birdies" helps her to build her finger strength by slowly putting down one finger at a time to mimic birds flying away.