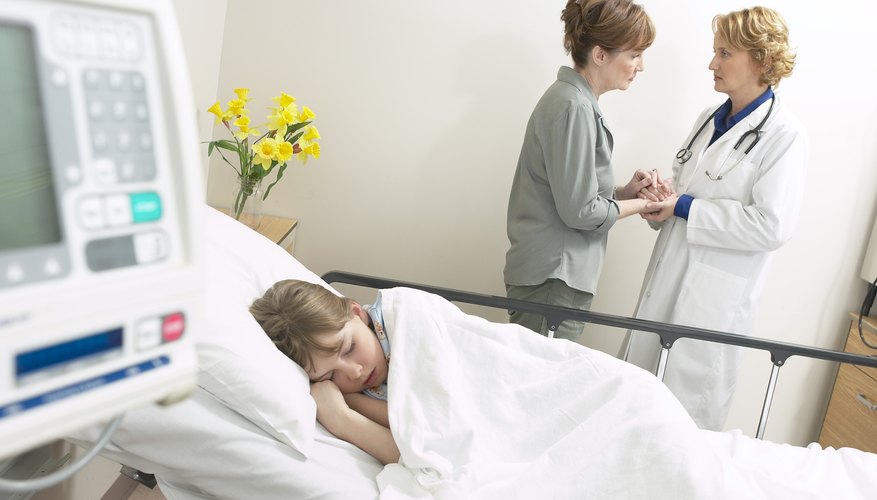 If you have too much month at the end of your money, you are not alone. More and more families are burdened with the crushing financial weight that comes with raising a chronically ill child. Chronic conditions such as asthma, diabetes and arthritis affect approximately 31 percent of children in the U.S., with 5 percent of these being severe in nature. The cost of hospital and doctor care for these children is estimated at 7.5 billion dollars each year. If your little one is struggling with a chronic health condition, there is financial help available for your family.
Health Care Coverage
When that money tree starts growing in your back yard, then you might be able to afford health care coverage for your chronically ill child. The good news is that your child may be eligible for coverage to help with medical bills. Every state offers no cost or low cost coverage through Medicaid or the Children's Health Insurance Program. Eligibility requirements vary from state to state. To find out if your child qualifies, call 1-877 KIDS NOW.
Medication Coverage
If you feel like every trip to the pharmacy requires the donation of an arm and a leg, then you may need financial help to cover medications or copays for your child. There are several options to help. Pharmaceutical companies offer patient assistance programs to those who qualify. Links to all these programs can be found at needymeds.org. Drug discount cards are another option to lower the cost of prescriptions. Other cutting-edge medication treatments may be found through clinical trials, which typically cover the cost of treatment and medication.
Charities
Sometimes you need more financial help than medication and treatment coverage. When this is the case, various charities may be able to give you just the boost you need. Charities such as St Vincent de Paul, The Ronald McDonald House and Believe in Tomorrow Children's Foundation provide for specific temporary needs related to caring for your chronically ill child. You may also be able to find help through organizations that are related to your child's specific illness. For example, the Jeremiah Foundation helps families who have children with cancer. Links to some of these foundations can be found at caseycaresfoundation.org.
Supplemental Security Income
Dealing with a bunch of red tape may not be high on your bucket list, but the Social Security Administration may find that your child is entitled to Supplemental Security Income. If your child qualifies as being disabled and your family is eligible, your child can receive a monthly payment. While the process of applying for SSI can be time consuming, your child may start receiving SSI payments even while a determination is being made. To start the application process, you can go to your local Social Security office or visit ssa.gov.
Wish Granting
Maybe there is no tooth fairy or magical genie to grant wishes, but some organizations want to do just that for chronically ill children. The Make-a-Wish Foundation, Starlight Children's Foundation, Dream Factory and Children's Wish Foundation International are just a few that offer financial assistance to help your family forget about the burdens of chronic illness for a day and simply enjoy fulfilling a dream.