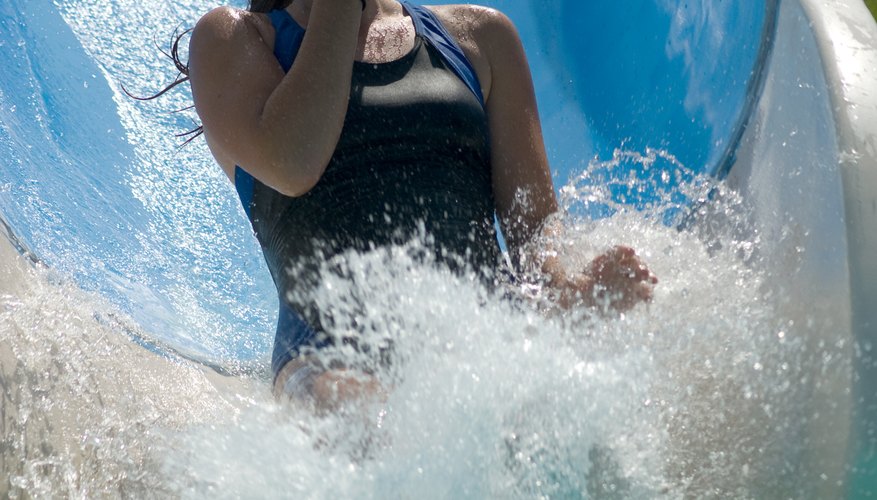 Houston is a large metropolitan area in the heart of Texas. The city enjoys plenty of sunshine and warm weather for much of the year. When one of those hot days comes around, take your family to one of the local water attractions to cool off and get a bit of exercise. From water parks to lakes, there's no shortage of water fun to be had in the Houston area.
SplashTown
SplashTown (splashtownpark.com) is located in a suburb of Houston called Spring, which is about 20 minutes from downtown Houston. This water park boasts Treehouse Island, which is a 3-story playground complete with ladders, slides and buckets that dump 1,000 gallons of water over the entire structure. Visit Crocodile Isle to play on a pirate ship or ride an inner tube down the lazy river. Leaky Pipes is a play area designated for children and has slides and a tire swing. Older children might enjoy the Space Rapids, Thunder Run and Zoom Flumes, which is a 95-foot tandem tubing slide.
The Quillan Center and Noah's Ark Pool
Located right in Houston is the Quillan Center (quilliancenter.org), which has a large swimming pool for adults and older children. It includes a diving board and space to swim laps. The center also has a swimming pool for smaller children, too. Perhaps one of the largest draws to the center is the Noah's Ark Pool, which is a large structure that looks like the ark, and is designed for toddlers, preschoolers and early elementary-age children. The play structure is decorated with animals and includes slides, a climb-through and several other water features that spray and dump water as the children play.
Pirate's Bay Water Park
About 30 minutes from downtown Houston in the suburb of Baytown is Pirates Bay Water Park (baytown.org/piratesbay). This water park is designed with a pirate theme and features a large pirate ship play structure. The ship has slides, climbing areas and dumping buckets. The park also boasts a 671-foot lazy river, several water slides and surf machine that mimics the action of ocean waves. Your family can even zoom down the giant water slide on plastic mats, which increase your speed -- and make the slide even more thrilling.
Parks and Lakes
You're family isn't limited to water parks to enjoy water activities in the Houston area. Visit Hermann Park (hermannpark.org), which is a 445-acre park nestled right in the heart of Houston. The park has a large lake where your family can rent paddle boats, go fishing and view native animals on the three islands in the lake. Pack a picnic to enjoy along the banks of the lake, too. Lake Conroe, also located in the Houston metropolitan area is about an hour north of downtown -- and offers boating, fishing, water skiing and swimming areas.