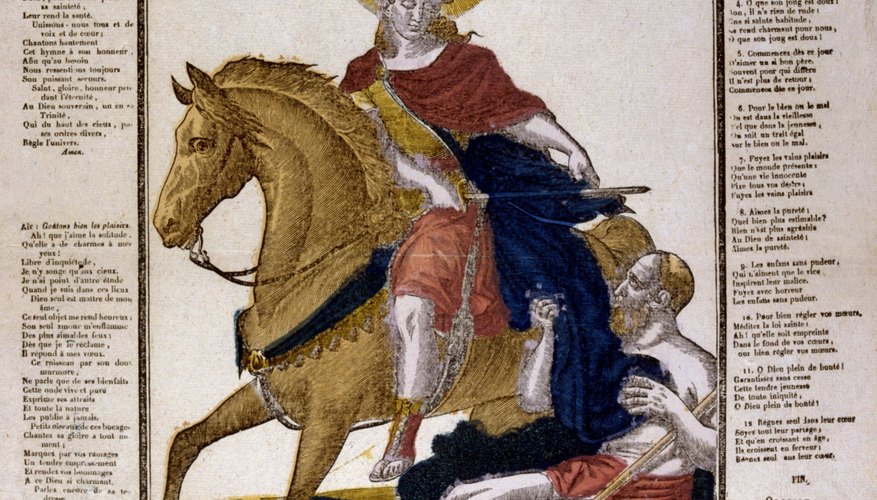 The Catholic Church defines a saint as a person in heaven who has lead a life of great charity and heroic virtue. The Catechism recommends that saints serve as models of charity for the Catholic family and states that children named after saints will be assured of that saint's intercession. You can honor your family's patron saints through activities such as crafts, skits and celebrations.
Skits and Plays
If your family enjoys dressing up and acting out skits, this is a great way to learn more about the lives of the saints. One story that lends itself to retelling is that of St. Francis and the wolf of Gubbio, which is a small town in Italy. A wolf had been eating townspeople, and the townspeople begged St. Francis for help. St. Francis asked the wolf to stop harming people, in the name of Christ. In return, he asked the people of the town to promise to feed the wolf. The people and the wolf kept their vows for the rest of the wolf's life. Another story is that of St. Martin of Tours who, when approached by a beggar in ragged clothing, gave the beggar half his own cloak to keep the man warm. Your children can create simple costumes for these skits by using bed sheets to make St. Francis' monk's robe or St. Martin's' cloak, and having the "wolf" dress up in brown sweats with a paper bag mask or cardboard ears.
Holy Cards
Make holy cards by finding an image and prayers associated with your chosen saint. If you cannot find a prayer, you could use a short biography of the saint. Format these cards for double-sided printing by inserting the images in the first sheet of your document, and then justify them to the left. Insert a text box that contains the prayer or biography on the second sheet and then justify these text boxes to the right. Make sure the images and text boxes are the same size, and then print them out so that you have cards with an image on one side and text on the reverse side. After printing your cards, laminate them to ensure durability. You can use these cards to help your children learn to pray to the saints, as the visual image helps children remember and think about the saint to whom they are praying.
Painted Peg Saints
You can use wooden clothes pegs to create little saint figurines. Find an image of the saint you wish to model, and use a small paintbrush to paint clothing and a face on the peg. Use a toothpick or fine-tipped marker pen for tiny details such as eyes and mouths. You can glue on yarn hair and beards and fabric scrap veils, but these are not necessary, because you can create these effects using paint alone. You can slip these peg saints over tree branches to use as Christmas tree ornaments, or you can place these on top of frosted cupcakes or to use as party favors for religious celebrations.
Saint's Day Celebrations
Celebrate the feast days of those saints for whom your children were named or saints who are recognized on your children's birthdays. Begin your celebration by attending a church service or saying a special prayer to honor that saint. Follow this with a special meal or treat, particularly if you can find one associated with your saint. One popular saint's day dessert is zeppole di San Giuseppe, which many Italian bakeries sell for St. Joseph's Day. Originally, these sweet treats were baked in the shape of a hammer to symbolize St. Joseph's profession of carpenter, but these days, they are a round cream puff, which can be filled with custard, pudding, sweetened ricotta cheese or even ice cream. Even though the pastries do not really resemble carpenter's tools, they are often decorated with red maraschino cherries and green sugar or sprinkles. The red and white decorations on top of the white cream filling replicate the colors of the Italian flag, which can remind your children that St. Joseph is the patron saint of Italy.