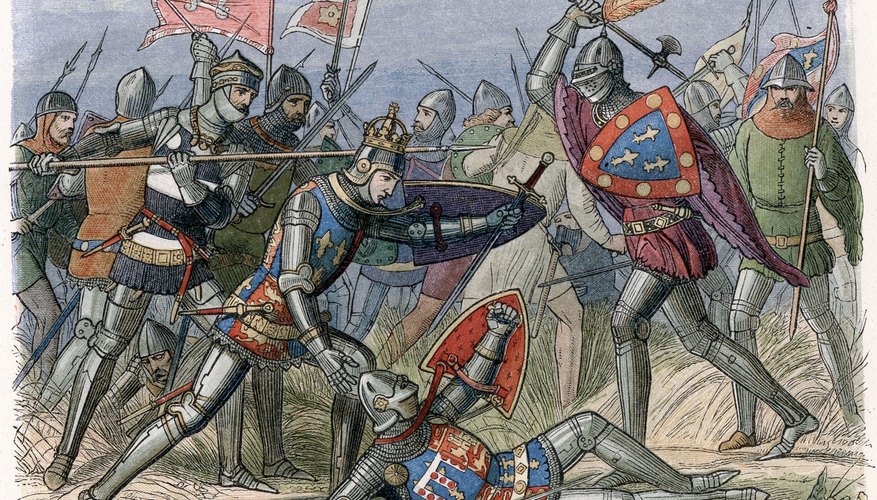 Family mottoes, or slogans, date back to the Age of Chivalry, when knights would display distinctive heraldic designs and hereditary family crests on flags and shields, so they could be identified on the battlefield. Some heraldic family crests were inscribed with colorful mottoes, a custom you and your children can reinvent to express whatever is special about your family.
Research Your Name
Your family name may already have an interesting motto associated with it, especially if you happen to have a last name from Scotland or England. Many English families had coats of arms, and many Scottish families were organized into tightly-knit clans in the past, each with its own distinctive slogan. For instance, the MacKintosh clan had the fierce-sounding motto "touch not the cat without a glove," the Keith clan had the slogan "truth conquers" and the slogan of the Lindsays was "endure with strength." You can research your last name to find out if it already has a historical motto.
Latin Mottoes
Some historic family mottoes were in the Latin language, such as "arno probos" or "love proves" and "fides et justitia" or "faith and justice." You can find hundreds of examples of Latin mottoes in any book on knightly heraldry. A Latin motto can be an impressive way to express your values and hopes for your family, such as "esperance" or "hope." Some historic mottoes are in other languages such as French or even Gaelic.
Create Your Own Motto
In the past, families sometimes used their mottoes to express something unusual about themselves. For instance, Scotland's MacDonald clan used the motto "per mare per terras," which means "by sea or by land." For a clan based on the remote islands of the Scottish Hebrides, this was a very appropriate slogan. Think of something that makes your family unlike any other, and you can use it to create your own special motto. For example, a family living next to a fast stream could use the slogan "as strong as rushing waters."
Create a Family Crest
Making a family crest to display your motto can be a fun craft project to do with your kids. Look at some examples of historic crests to get an idea of how heraldry works, then pick a symbol to represent your family. Many heraldic crests display animals such as dogs or lions rearing up on their hind legs. You could cut out a piece of cardboard in the shape of a shield, draw the family dog or cat in an impressive pose, color in the image with your kids and hang it up with your motto displayed on it, for everyone to see. Kids interested in history, knights or fantasy fiction would find this especially exciting.