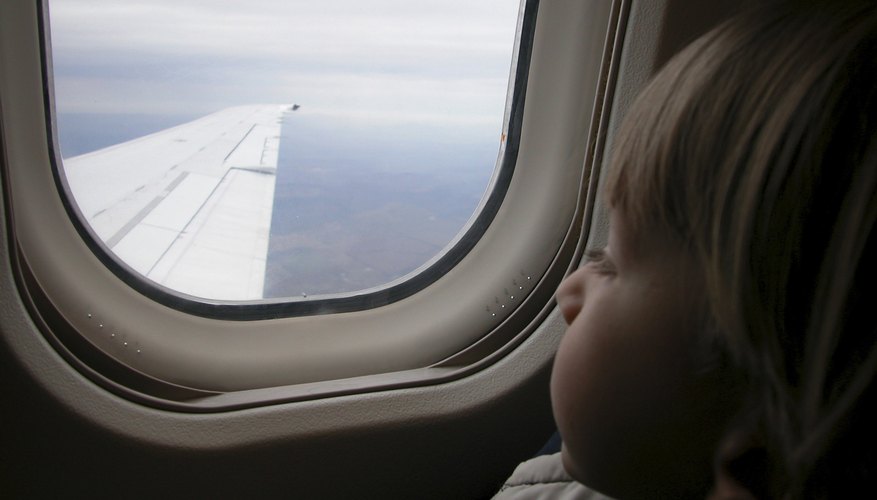 Flying with toddlers is a lesson in patience and perseverance. In addition to carrying all of the gear necessary to travel with a toddler, you must also adhere to a set of rules that dictate what you do before getting on an airplane, as well as what's expected while you're in flight. Knowing these rules before you go on your next vacation will help you maintain the patience and calm necessary to get from point A to point B with a toddler in tow.
Airport Security
No matter how old your child is, she must go through airport security and be checked. The Transportation Security Administration is required to check everyone getting on an airplane. Because your toddler is under the age of 12, she won't have to remove her shoes as you will, but her stroller and car seat will be put through the scanner. Your toddler will also have to pass through the X-ray machine, though the TSA will never ask you to do anything that requires you to be separated from your child.
On Your Lap
If your toddler hasn't reached his second birthday yet, he can sit on your lap, which means you don't have to buy a separate ticket for him. While this can save you some money, the National Transportation Safety Board has recommended that the FAA and individual airlines change that rule. The NTSB reports that seating your toddler in a child restraint seat is far safer than simply bracing your child on your lap. In fact, the FAA has gone so far as to agree with the NTSB, but has yet to adopt the rule, as of the date of publication.
In a Car Seat
Once your child reaches the age of 2, you must buy her a ticket and she must sit in her own seat. The FAA strongly recommends that you use a child restraint seat that has a sticker explicitly stating that it's FAA or airplane approved. However, it's not a law, and you ultimately get to decide whether to bring your child's car seat on the plane or to check it at the gate. Another consideration if your toddler is between 22 and 40 pounds is the FAA-Approved Child Harness Device, or CARES. The CARES is a harness-type restraint that buckles your child safely into the airplane seat without requiring you to bring a hard-backed car seat on board.
Additional Rules
According to the FAA, once your child reaches 40 pounds, he should sit in the airplane seat with the attached seat belt. In fact, once your toddler transitions to a booster seat, you won't be permitted to bring it on board anyway. If you do use a child restraint seat, it can't be wider than 16 inches, which ensures that it will fit in the airplane seat. You won't be able to sit in the exit row, and different airlines have guidelines about whether the seat should be placed on an aisle seat, middle seat or window seat, as well.