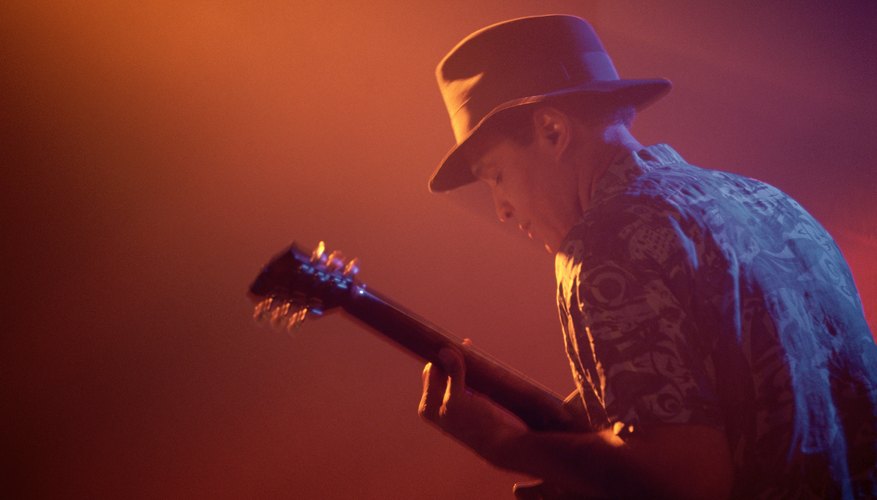 Depending on your geographic location, you may have significant exposure to blues music in your environment or your kids may need a fast primer on the genre. If your children need a few lessons, expose them to the signature strains of blues music using both sights and sounds of the craft. By the time you wrap up your lesson, you may have little blues fans who appreciate the rich and varied music.
Provide an overview of the origin of blues music to give your children details about the beginnings of blues. Blues music originated in the northern Mississippi Delta area after the Civil War ended, according to the History of Rock website. The characteristic 'call and response' rhythm of blues music sprang from the environment of drudgery and manual labor that black slaves experienced while they sang. After black slaves were emancipated and needed to earn a living, two common options were either working as field hands or entertaining as a traveling minstrels -- both occupations involved singing the blues, states the University of Scranton.
Talk about some of the hardships that inspired blues music. Generally, blues music features a common theme of sorrow, trouble and bad luck. The ballads began as work songs and spirituals, sung and played by people experiencing difficult lives. Black slaves toiling in the fields, working under difficult circumstances and living under oppression were among the first to originate blues music.
Explain the impact of blues music on other music forms. Tell your kids that blues music exists as the foundation of country, rock and roll, jazz, hip hop and all other major music forms, according to the PBS website. Touch on the fact that blues music has many sub-genres, with each different sub-genre varying according to different music styles and geographic locations, according to the ARChive of Contemporary Music website. Some sub-genres of blues music includes city blues, country blues, good times blues and jump blues.
Play a selection of blues music for your children to hear. Visit the PBS website to hear blues clips from an educational CD provided for educators. As you listen to the blues music, notice the lyrics, the instruments and the music with your children.
Discuss the various instruments that play blues music. The harmonica, guitar, spoons and washboard, drums, tambourines and even kazoos are common blues instruments, according to the Jacksonville.com website. Blues music often comes about with homemade and makeshift instruments, giving it part of its simple and authentic air.
Mention the names of a few legendary blues artists to your children. W.C. Handy was instrumental in the blues movement, according to the History of Rock website. BB King, Bukka White and Billie Holiday were also popular blues artists.