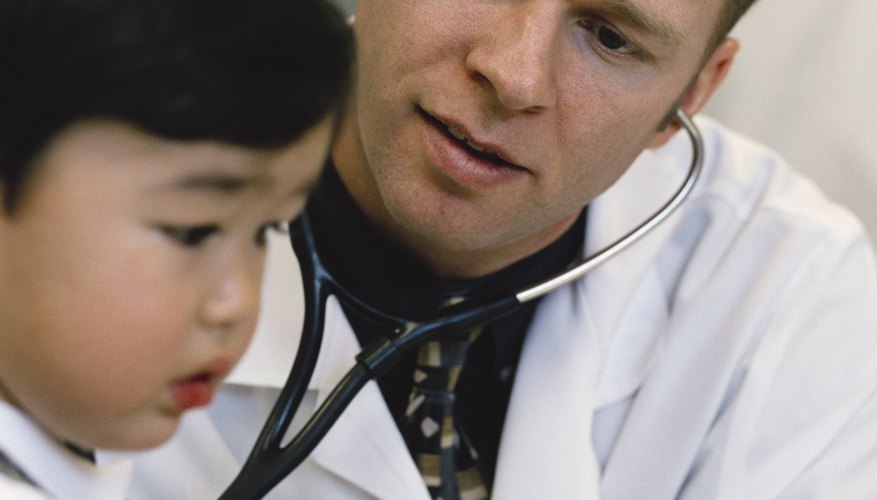 Your 3-year-old toddler's check-up appointment is one of many regularly scheduled well-baby exams during which his pediatrician evaluates and documents the child's general health and development. The exams follow a schedule of medical care designed to monitor and protect your child's health, catch problems early and determine the appropriate treatments or interventions. Your doctor will record information in your child's health records, including the immunization and growth charts.
Physical Examination
Your 3-year-old will undergo the usual physical examination. The pediatrician will conduct a few tests and look at every part of your child's body. Teach your chcild to open wide and say "ahhh" to prepare him for an examination of his mouth and throat. Naming his body parts helps you explain how the doctor will check his limbs, spine and stomach, head, muscle tone, heart beat and reflexes. Show him how the doctor will check his ears and eyes so he knows what to expect. Prepare to answer questions about weight gain, height, motor development, bowel functions and any concerns you have. Your doctor might recommend taking your child to a dentist for the first time.
Growth and Development
Your pediatrician will check your child's development through observation and by asking you questions. Some doctors ask parents to complete a questionnaire form that asks about typical developmental milestones expected for 3-year-olds, such jumping and running, using crayons and speaking in sentences. The doctor wants to know about sleep, nutrition, toilet training and your child's ability to learn. Does he know the colors, alphabet and numbers? Can he feed and dress himself?
Immunizations
Although most children don't need vaccinations at their 3-year-old check-ups, the doctor might recommend some if your child is missing some that should have already been administered. Between birth and three years of age, children receive a series of vaccines and booster shots to protect against various diseases and conditions. The immunizations protect against various diseases and conditions, including hepatitis A and B, diphtheria, tetanus, pertussis, influenza, polio, chickenpox, measles and mumps.
Vision and Hearing
Pediatricians check their little patients' hearing and vision, often using observation and simple techniques. Your doctor might order additional testing as a routine part of well-child care for your 3-year-old or if she detects potential problems. The type of testing performed depends on the child's development and ability to participate, when required. Screenings and full examinations help doctors identify problems early. Pediatricians refer children to specialists when more extensive testing is required.