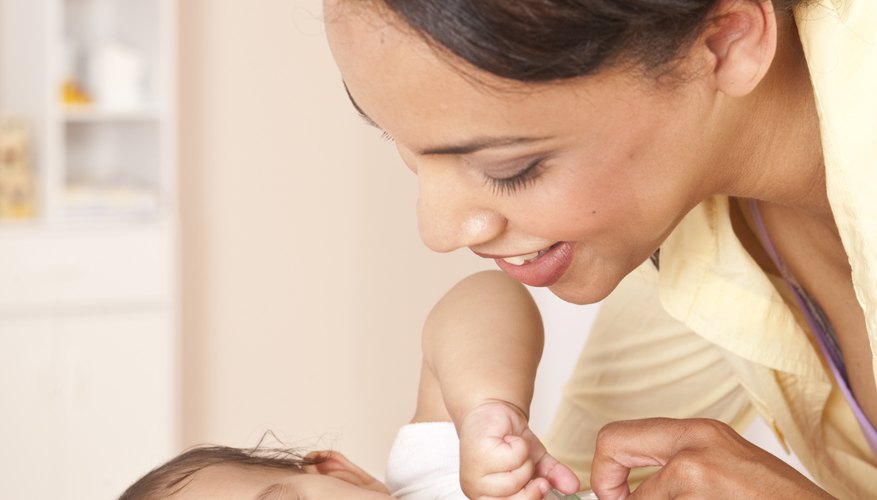 As a new parent, you want to give your baby the best start possible. And while The Beatles sang that "all you need is love," your infant will need more than kisses and hugs to foster healthy development through the first few months. Environmental factors can impact your little one's overall development -- for better or for worse. By making yourself aware of the elements that can affect your infant, you can be sure to give him a solid start.
Human Interaction
One of the most significant environmental factors that affects your little one is who shares his environment. According to Better Brains for Babies, a baby forms either a secure or insecure attachment to those around him based on how they respond to him. Responding to his cries promptly and communicating with your little one can help form a secure attachment, while neglect can result from an insecure attachment. Better Brains for Babies also points out that a secure attachment leads to a healthier child who handles stress well, while an insecurely attached child may deal with anxiety and social distress.
Housing
The home in which you live does more than just keep a roof over your baby's head -- it serves as a first place of play and exploration. The World Health Organization warns that a lack of stimulation is one of the major causes of a lack of development, and your home can act as a tool for stimulation and learning. Giving your baby a safe place to explore -- first visually and later by crawling and walking -- means your little one gets adequate stimulation as he learns about the immediate world around him. Without space to play or tight boundaries, your child's development could be hindered.
Income
Your household income could have an effect on your baby's development. No, he doesn't need his own bank account quite yet, but your income usually determines the level of care your child receives. Those under the poverty line are less likely to obtain checkups and other medical care for their babies, are more likely to suffer from parental mental health issues and may not have access to things like formula, healthy baby food or areas for baby to play, notes Zero to Three.
Safety
Babyproofing your home and adhering to safety precautions when it comes to caring for your little one can ultimately affect your child's development. The American Academy of Pediatrics, for instance, recommends putting your little one to sleep on his back to lower his risk of SIDS. Anchoring heavy and tall pieces of furniture to the wall can help limit the possibility that furniture could fall on your infant and keeping toys with small pieces out of his reach could limit choking. As a parent, your dedication to a safe environment could mean the difference between safe and happy development or possible tragedy.