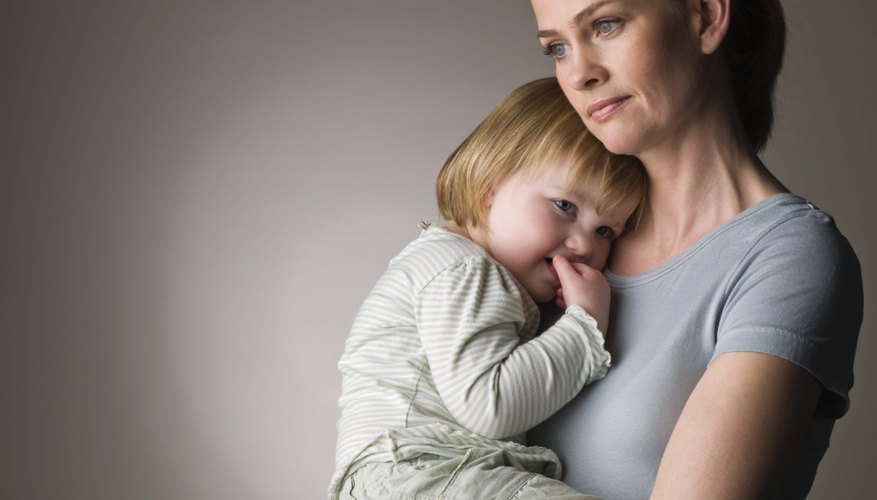 Single parents are more than capable of raising healthy, happy children. There are some pitfalls, though, to be aware of if you are a single parent. The sleep deprivation that is notorious in infants during the early months of life is exacerbated for single parents. Some other concerns facing single-parent families include income level, time management and child-care options. While these issues also face two-parent families, single parents often have to face these issues alone without the same support available in many traditional two-parent households.
Extreme Sleep Deprivation
The article, "The Challenges of Single Parenthood," published on HealthyChildren.org, tackles the topic of extreme exhaustion in single-parent households. The article warns that single parents are prone to more sleep deprivation than are those in two-parent families. This can lead the single parent to feel lonely, isolated and exhausted. HealthyChildren.org suggests single parents find reliable caregivers to regain some personal time. An exhausted, unhappy parent can create an unhealthy child-parent relationship.
Income Challenges
"National Baby Facts," a publication of ZeroToThree.org, states that 75 percent of single-parent households with infants and toddlers fall into the low-income category. This can put incredible pressure on the single parent in financial terms. The publication advises that research reveals that low-income households can create problems for children even later in life, in regards to affording college, lower self-esteem and decreased opportunities. While successfully raising children with one income is not impossible, it is difficult and there are more challenges. The single parent has to be ever diligent in budgeting to ensure that her child's every need is met.
Time Management
"Single Parent Journal" cites that a challenging aspect of single parenting is time management. For single parents, there seems to always be a shortage of time. Two-parent families often have a hard time juggling time management, but when half the parenting team is absent, completing tasks becomes even more difficult. The journal says that single parents can have a hard time juggling household duties, work duties and child rearing. In some cases, this can lead to a disconnect between parent and baby. Single parents need to plan bonding time with baby.
Finding Good Childcare
According to HealthyChildren.org, an important aspect of single parenting is finding quality childcare. Children must feel safe and secure with caregivers. HealthyChildren.org recommends that single parents avoid using new friends or love interests for babysitting since they are not well known yet. The site also suggests single parents steer away from having older siblings babysit infants or toddlers. They advise the best caregivers are those who have professional experience in child development and proper CPR/First Aid training. This may prove more expensive, but peace of mind regarding a child's safety is worth the extra money.