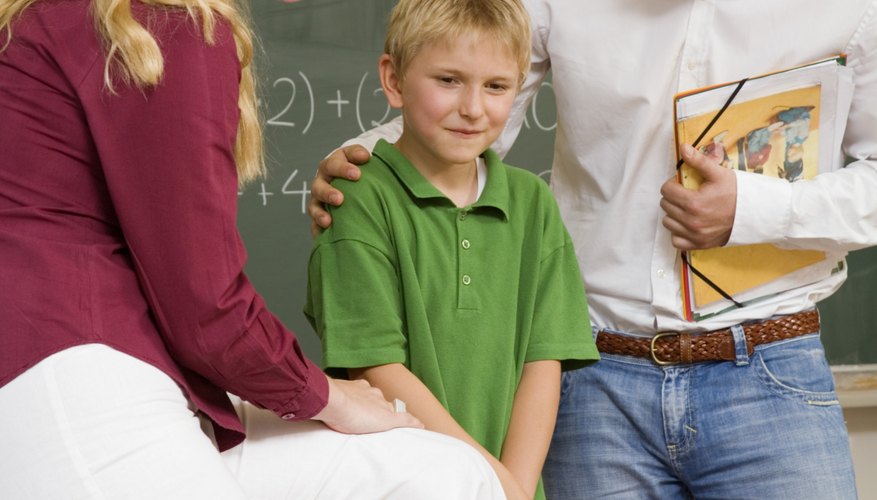 In today's world, there is a stronger emphasis on teacher performance and accountability than ever before -- and parents are taking note. Active parental involvement is a proven way to improve performance in the classroom, according to the National Education Association. Strong communication with a child's teacher plays an unmistakable role in the child's ability to overcome academic obstacles and to navigate through the classroom's social landscape. Some teachers may loathe so-called "helicopter parents," while others prefer to have someone else in their corner when times get tough.
Lesson Planning
Parents know their children best, but teachers get to see them outside of their element. The combination of the two is powerful. Finding what works best for a student, or what types of activities benefit him the most, can be done with parental involvement. The teacher might not taste the frustration of an ineffective lesson if she can make such a connection with parents. The U.S. Department of Education offers a survival guide for new teachers, which showcases a few anecdotes about parent involvement. One story, told by teacher Margie Robinson, explains that her parents became her "greatest resource." Robinson began giving them ideas for activities that could be done at home to contribute to the lessons given in the classroom.
Behavior
A study published in the May/June 2010 issue of Child Development looked at over 1,300 children from 10 elementary schools in the United States. The study clearly concluded that when parents play a larger role in their child's education, behavior problems decreased, including "aggressive and disruptive behaviors as well as anxiety and depression." Teachers who struggle with deviant students tend to expend lots of energy on them and usually can't provide the best quality education to the rest of the class. If more parents took the time to become involved, teachers could be more effective as a whole.
Enjoyment
A burned out, tired, frustrated and under appreciated teacher might not deliver as many memorable lessons. If parental involvement leads to better behavior and more effective lessons, the classroom environment may loosen up and allow for more creativity and collaboration between students. Another story shared on the U.S. Department of Education website involves the classroom climate after getting more parents involved. Teacher Katy Goldman noted that once her parents began to support her methods, she was able to secure more volunteers to help strengthen the learning environment; her teaching became a real team effort.
Performance
Both the student and teacher's performance in the classroom can be enhanced with more parental involvement. Today's model for most teacher evaluations includes a test score component. Even though it may sound ludicrous to suggest that a teacher can be held responsible for the scores earned by misbehaving students or even those with terrible attendance, it is becoming the norm. If better lessons are delivered, behavior is improved and students are more engaged, their test scores will improve, which will in turn benefit both parties. To back the claim, the Harvard Family Research Project published results in 2005 that indicated that parental involvement improves standardized test scores, which are increasingly becoming part of the teacher evaluation picture.