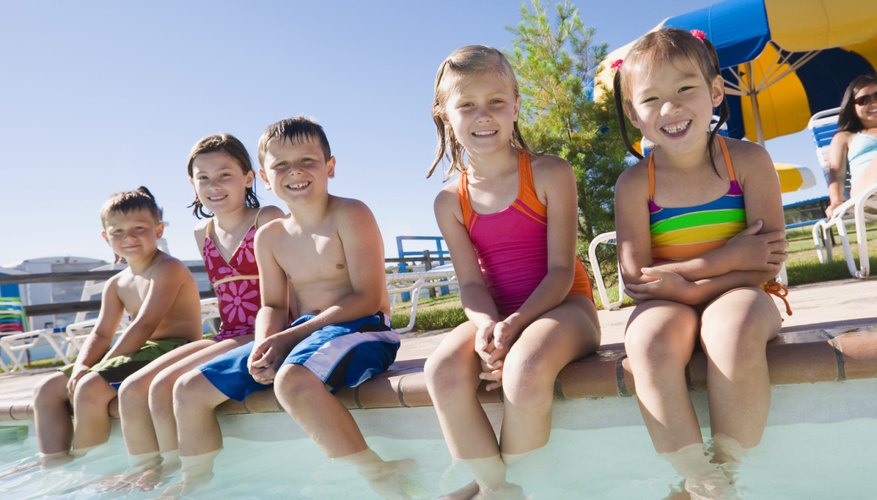 Swim lessons are not only fun for kids, they teach valuable water safety skills. While you hope never to encounter such a situation, some kids do fall into water, and preparing them ahead of time heightens the chances that they will get out of the situation safely. While you can start kids young in the pool, you will probably need to accompany them until they are several years old.
Solo Swim Lessons
Solo swim lessons, or those that occur when your child is a member of a larger group or class and only has one or two swim instructors, aren't safe until your kid has the ability to carefully follow directions and stay safe in the water. Generally this occurs when kids are about 3 years old, though there is no magic age for assuring your child will be fine in swimming lessons. Instead, spend some time in the water with your toddler and assess his reaction. If he is fearful or inexperienced, you should spend more time together, or sign up for a parent-child class first.
Parent and Child Pairing
As a parent, you can take your kid to swim lessons much earlier than you can send them on their own. Usually it is safe for your baby to be in the water as soon as his first round of immunizations is complete, though you should always check with your doctor before making any decision. Being in the pool with kids not only provides them with a feeling of security, but you can also help them learn valuable skills like breathing underwater: simply blow in their face until you dunk them, causing them to hold their breath, then bring them back up.
Survival Skills
Most drownings occur because children cannot call for help when they are stranded in the water. Usually this is because they lack any survival skills which might otherwise help them in a crisis. Many instructors start these days by teaching children to flip onto their backs and float. This gives them the opportunity to call out while bobbing on top of the water, instead of desperately trying to keep their face out of it. Often learning this skill can begin as early as 10 or 11 months. Always encourage active listening, whether it is you or a teacher they need to listen to, as getting the right directions is crucial for water safety.
Water Comfort
Children may at first exhibit fear of water, but acclimation will occur if you take the right steps. During bath time, gently trickle water onto your baby's face and don't wipe it away. Start slow in the pool, teaching breath-holding, floating and kicking skills before moving on to strokes. Getting kids acclimated to water is an important step toward water safety as well, since if they come into contact with it later they will know how to react.