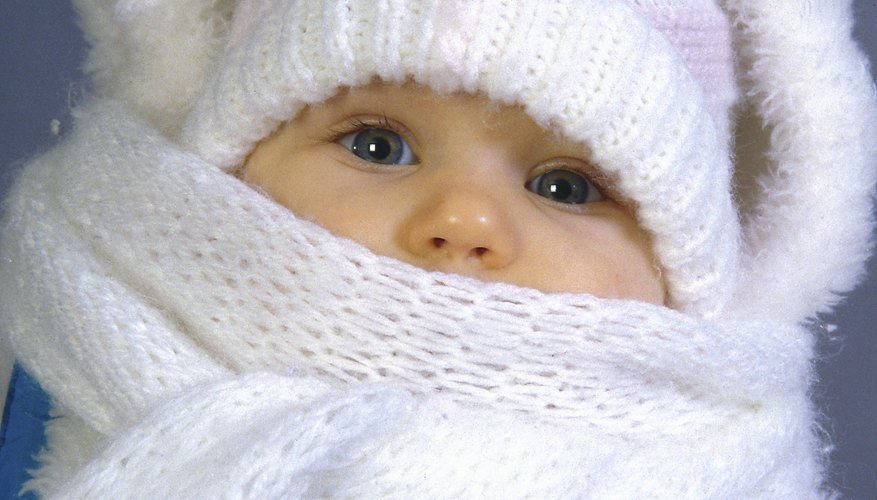 Baby's first winter doesn't have to send chills down your spine. Keeping your delicate 6-month-old safe from cold temperatures is easy enough; resisting the urge to overdress her might be your biggest challenge. Because young babies can't regulate their temperatures as well as older kids and adults, your infant's winter wardrobe should be easy to adjust for changing conditions. Try to hold off on dressing her in a puffball snowsuit, though, until she's ready to start toddling through the snow.
Dress her in a cotton shirt or a onesie as her first layer. Change her diaper just before adding the rest of her winter wardrobe, since the multiple layers may make subsequent changes difficult when you're on the go.
Pick out an outfit of long pants and a long-sleeved shirt. Choose thin fabrics rather than chunky knits; the American Academy of Pediatrics recommends dressing an infant in thin layers for winter.
Top her shirt with a zippered or button-up sweater and pull a pair of fleece pants over her legs when you're preparing to go out. If your home is warm, she won't need excess layers.
Place socks on her feet, layering two pairs together if it's an especially chilly day. Choose a pair of shoes that ties on so they can't fall off while your baby is outdoors.
Dress the baby in a winter coat before going outdoors. Add mittens and a hat that fastens under her chin when the weather is cold. Remove these items as soon as you go indoors to prevent your baby from becoming overheated.
Apply sunscreen to any exposed skin before taking your baby outdoors. Rub gentle moisturizing cream over her skin when you return home, since cold and wind may dry out a baby's delicate skin.
Tuck your baby into light pajamas and a warm sleep sack at night. Unless your home is cold, she won't need any heavier sleepwear.
Tip
If you're unsure how many layers of clothing your baby needs for any given day, head outdoors yourself and consider what you need to wear to be comfortable. The AAP suggests dressing your baby in one more layer of clothing than you need in the same conditions.
Wearing a bulky coat makes your baby's car seat harness fit too loosely. Test it out, suggests ConsumerReports.org: place your child in her seat while wearing her winter coat and tighten the harness straps. Remove the coat and buckle her in again. If you can pinch any of the harness material between your thumb and forefinger, the straps are too loose. When you're taking a car trip, remove her coat before buckling her into her seat. Wrap the coat around her front or tuck blankets over her to keep her warm.
Use a warm zippered blanket that fits over a car seat or stroller as an alternative to a winter coat for a little one. You can purchase these at any baby supply store.