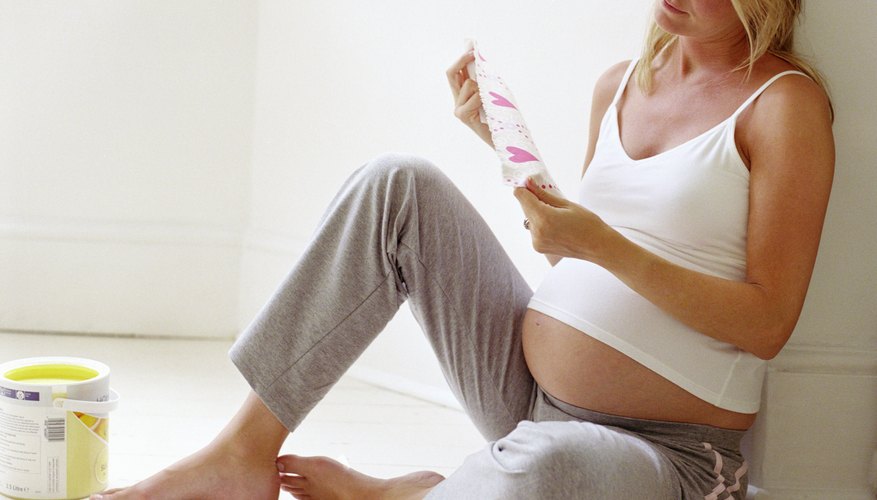 Moms-to-be need daily exercise, early and regular medical evaluations and healthy meals, but there's more to pregnancy than food and exercise. Pregnant women have a special responsibility to change unhealthy behavior to give the baby the best chance possible for normal development. Part of this important duty means thinking first about the impact mom's actions have on the unborn baby, and avoiding potentially damaging behavior.
Food and Exercise
A daily nutrition plan, combined with a regimen of prescribed vitamins and minerals, helps expecting moms give baby all the necessary elements and also keeps mom at a healthy weight during the pregnancy, according to the Department of Agriculture. Expectant moms need special foods and serving amounts based on their age, height, weight, amount of daily physical activity and stage of their pregnancy. The Environmental Protection Agency warns pregnant women to avoid dining on shark, swordfish and King Mackerel due to mercury contamination. Moms who consume mercury risk neurological damage in their newborns. Sutter Health recommends daily exercise for pregnant women to improve circulation and strengthen muscles needed for childbirth. Exercise also helps maintain healthy weight for mom.
Household Exposures
Unborn babies have health risks from chemicals and poisons only mildly dangerous to mom. Expectant mothers can eat or drink hazardous chemicals, breathe fumes or absorb chemicals through the skin that can harm baby, according to Parents magazine. All paints emit chemical fumes, and it's best for future moms to let others paint the nursery, and avoid the room for at least 2 days after it's painted. Exposure to lead, in even small amounts, can cause brain damage in a fetus. Old pipes, metal solder, old glazed dinnerware, crystal glasses and paint manufactured before 1978 all have potential for lead exposure. Arsenic found in things built from pressure-treated lumber creates the same potential harm for developing babies. Farm fields and industrial waste sites also pose potential harm from arsenic. Well water in some geographic regions contains high levels of arsenic from fertilizer use. Pregnant women should avoid prolonged exposure and drink bottled water to protect baby. Pregnant women should not clean a cat's litter box to avoid contracting toxoplasmosis, a flu-like infection which could lead to pre-term birth, stillbirth and birth defects, according to the March of Dimes.
Drugs and Alcohol
The March of Dimes reminds women to avoid drugs, including many over-the-counter medicines, and abstain from alcohol when expecting or trying to become pregnant. Tobacco and other drugs, including marijuana and cocaine, cause harm to developing babies. Women who smoke have a higher risk of stillbirth and low birth-weight babies, according to the American College of Obstetricians and Gynecologists (ACOG). Alcohol also has the potential to damage the fetus. The liver breaks down alcohol in mom, but baby's liver can't handle the toxin. Drinking risks a pre-term baby or miscarriage, according to the ACOG.
Medical Care
Pregnant women should avoid certain types of medical treatment, and get professional medical care for common conditions such as the flu. The University of Chicago recommends immediate treatment for urinary tract infections, flu-like symptoms that may mean infections with parasites such as Toxoplasma gondii and suspected incidents of food poisoning. The MedlinePlus Medical Encyclopedia cautions moms to avoid all types of cold and flu medications and use a hand sanitizer to keep germs in check.