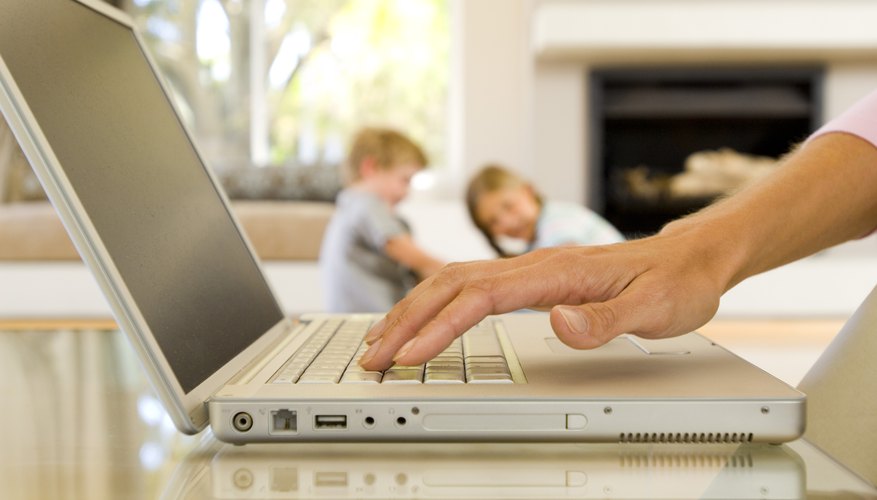 Many working mothers feel guilty and stressed because they have to divide attention between their family and work. The key to dealing with working mom guilt lies in finding a balance between home life and work. A mother with a young child is more likely to experience this guilt than one with older school-going children, as babies and toddlers are more dependent on their parents. A mother can worry that she will lose connection with her young child because of her absence.
Comfort for Your Child is Comfort for You
The first step to finding work-life balance should involve finding suitable child care. In an article in "Colorado Early Childhood Journal," Toni Schindler Zimmerman and her co-authors investigate strategies for reducing guilt among working mothers and report that many parents feel uncertain about taking their child to a day care. They feel guilty about the effects of day care on the child. When you identify your preferred day care, interact closely with the staff. Be positive and help your child to look forward to going to day care each day. Knowing that your child is comfortable in a day care will help you to overcome your guilt about leaving him.
Next, find ways to help your child feel connected to you in your absence. Give your school-going child something special such as a personal note or a good-luck charm to take to school. For example, you can give your toddler in day care your hair band or scarf to take with her for comfort. For children staying at home, leave a recording of your voice either reading or singing. You will feel better knowing that your child has a way to connect to you in your absence. Leave instructions at home or at day care on how they can contact you in case of an emergency. Be sure to spend quality time with them when you get home. If your child is happy and comfortable in your absence, it will give you piece of mind when you are at work.
In her book "What Happy Working Mothers Know," Cathy L. Greenberg and Barrett S. Avigdor discuss the importance of role modeling for a working mother. Working outside her home helps a mother to fulfill a crucial part of her life -- of providing for her family. Rather than detracting from your mothering, working adds to it. Treat work as a lesson for your children on how to fend for themselves and become independent later in life. Greenberg and Avigdor suggest that a working mother should understand that she is a role model for her child. She will feel less guilty about leaving him and going to work. Instead of dwelling on not being with your child, consider how your role as a working mother benefits the family. Focus on the priorities of the moment, and it will help you come to terms with your choices.
Tip
A 2009 study by Esther Otis at the Kansas State University suggests the need for a social support network for mothers trying to balance work life and motherhood. Support networks include other working mothers, partners and support groups. You will realize that you are not alone. Discussing your feelings with members of a support group will help you find some work-home balance. You will also learn how others cope with their guilt.