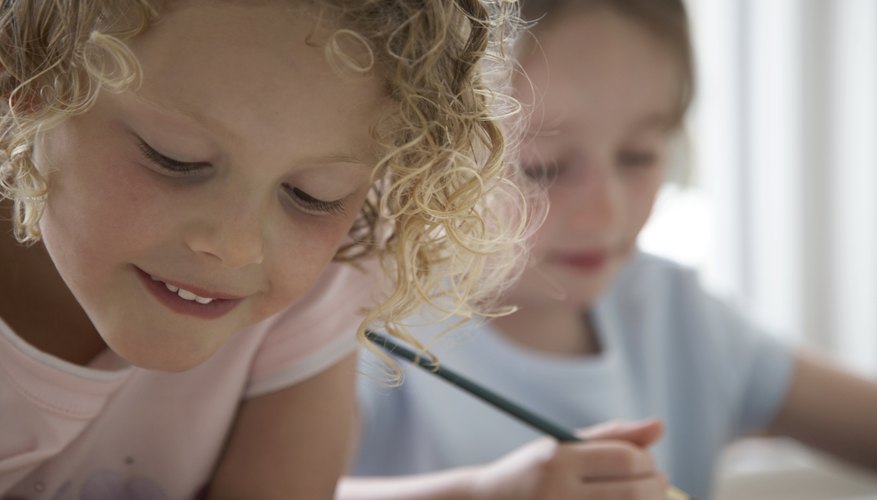 From things-on-string to hand-painted works of art, creative kids' activities don't have to revolve around glue sticks, construction paper and pipe cleaners. By using basic art techniques and simple instructions, you can open up a world of possibilities with a few art supplies and a dedicated space where kids can get messy as they snip, glue, paint, tape and get creative.
Things-on-Strings
Don't let cries of "I'm bored mom!" be a part of your child's vocabulary. Set up a craft station in your home and keep it stocked with old shoe boxes for collecting art supplies such as crayons, paper, string, tape, safety scissors, glue sticks, books, a roll of white butcher paper and washable markers. Have your child draw the things she wants on paper, then color and cut them out. For younger children, use die cuts or cut-outs, which often come in collections such as bugs, flowers, transportation, space and sports. Cut a long piece of string. Lay the things your child has cut, or the die cuts, face-down, then lay the string on top. Press pieces of tape to secure each picture.
Fingerprint People
For a creative grandparent's gift, turn your child's fingerprints into an entire cast of characters from fancy stick people to pirates, cowboys and cooks. To make a fingerprint person, spread non-toxic washable poster paints in an assortment of colors onto several paper plates. Gather a few colored washable markers. Dip the tip of your child's middle finger into the paint and press it onto paper or a canvas board, making a fingerprint. When the paint dries, draw eyes, a mouth, a nose, and stick arms and legs to turn fingerprints into little people. Draw in a cowboy hat, add glasses and a bow tie, or curly hair and a little dress. You can also glue on embellishments to get really fancy.
Fancy Gift Tags and Wrapping Paper
If you've ever searched high and low for a piece of wrapping paper for that last-minute gift, look no further than your child's craft center. A simple sheet of paper comes alive with a glue stick and your child's imagination. Have your child cover a fresh piece of white butcher paper with scraps of used gift wrap, patterned scrap-booking paper and old magazines using a glue stick. Cut a rectangle from the paper and punch a hole in the top. Thread ribbon or string through the hole to make a gift tag. Decorate the tag with buttons, scrap-booking embellishments and colored yarn. If your present doesn't wow them, your wrapping and tag most definitely will.
Hand-Printed Butterflies
To make hand-printed butterflies, you will need a few paper plates, washable poster paints, a black washable marker and paper. Press both hands, but not the thumbs, into a paper plate covered with paint. Press your child's hands about two inches apart on the paper, leaving hand prints. Wash your child's hands, then press her index finger into the paint and press it on the paper between the hand prints to make the butterfly's body. Press the tip of another finger in the paint and press it down on the paper, above the butterfly's body, to make the head. When the paint is dry, draw in antennae, and add stripes and shapes on the butterfly's wings.