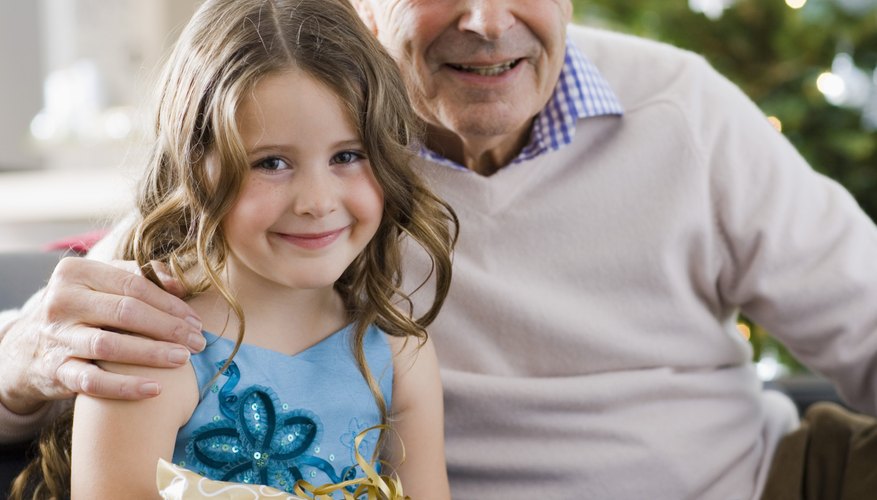 Nothing provides more joy to proud grandparents than receiving a thoughtful gift from their grandchildren on Christmas. If you truly want this Christmas to stand out from the rest, help your children purchase, build or create an unforgettable, enjoyable or just plain silly gift for their loving grandparents.
"Why I Love You" Video
Create a video diary of all the reasons why your children love their grandparents. Before creating the video, brainstorm segments that highlight past events and memories your children and their grandparents treasure. For example, take a video of your kids in the park reminiscing about an afternoon they spent together. If your kids and grandparents enjoy watching a particular movie together, encourage the kids to act out their favorite scene. If you have the proper equipment, consider editing in photos and family videos of the children and their grandparents together during special occasions, such as past Christmases or birthdays. Save a portion of the DVD near the end to allow each child to send their grandparents a special secret Christmas message.
Unusual Coupons
Many children give their parents or grandparents coupons for their birthday or Christmas that offer the promises of "Free Hugs." Instead, help your kids create colorful coupons their grandparents will appreciate this holiday season. For example, if your kids are older, create coupons that promise to provide a variety of services, such as "Help Cleaning Up After Christmas Dinner" or "Help Grandpa Hang the Christmas Lights." For younger children, help them create humorous coupons, such as "Help Grandma Bake Christmas Cookies Without Making a Mess" or "Give Grandma Extra Marshmallows in Hot Chocolate." Present the coupon book to the grandparents before Christmas to allow them to reap the benefits of their grandkids' generosity throughout the holiday season.
A Personalized Christmas Party
Assist your kids with throwing an intimate, one-of-a-kind Christmas bash their grandparents will appreciate, and never forget. What makes this party special is that it will feature only food, games and decorations that the grandparents enjoy. For example, help the kids bake their grandparent's favorite Christmas cookies or treats. Prepare a special meal featuring the grandparent's favorite foods. Hang your grandparent's favorite Christmas decorations and during the party, play the grandparent's all-time favorite Christmas songs. Finish the evening by serving the grandparent's a cup of hot cocoa or cider while you enjoy their favorite holiday movie.
When Grandma and Grandpa Were Kids...
Help your kids purchase, bake or create a present that reminds their grandparents of Christmas when they were children. For example, was there a toy grandma or grandpa received when they were a kid? Help your children scour the internet or antique stores to find a train set grandpa remembers receiving when he was a child, or that doll grandma used to love when she was a little girl. Help your kids bake grandma's favorite Christmas-inspired dessert from when she was a child, or help the kids learn the lyrics to grandpa's favorite Christmas song and put on a performance after opening the presents.