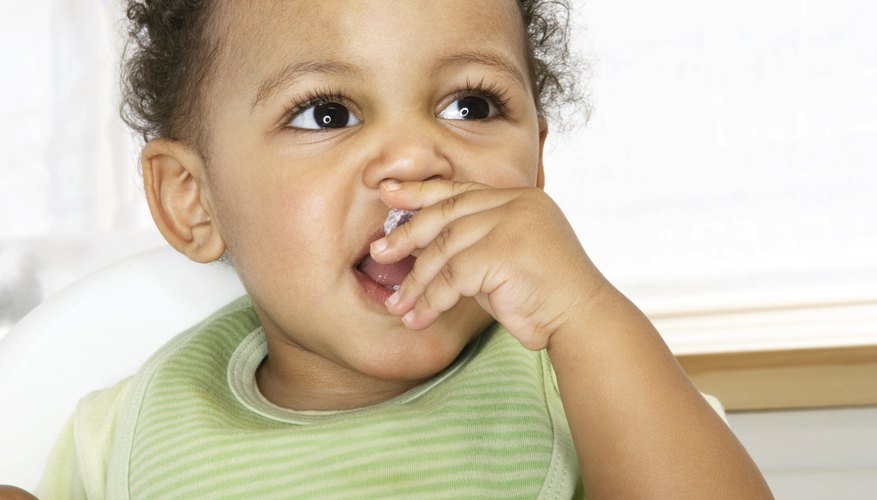 The task of introducing new foods to your toddler can be a challenging one. It may take ten different tries before your child decides to accept a new taste. Unfortunately, you may not be able to get your child to try out a new food even once. If you're tired of feeding your picky toddler the same foods every day because she won't eat anything else, consider searching for recipes in a new cookbook.
One Bite Won't Kill You
"One Bite Won't Kill You" is full of ideas for picky eaters and their families, with one section devoted specifically to toddler recipes. Not only will this book help solve your snack and mealtime problems, it will provide comical relief through tips from other parents who have been in your shoes. As your toddler grows, you'll be able to keep turning to this book for new recipes for preschoolers and older children.
The Sneaky Chef
If you can't get your toddler to eat his veggies, this cookbook by Missy Lapine may be the solution you've been looking for. "The Sneaky Chef" will teach you how to sneak pureed vegetables into kid-friendly meals such as mac 'n cheese, chicken nuggets and mashed potatoes. Your toddler will be eating healthy foods that he otherwise would not touch, and he won't suspect a thing. If you're worried about getting your toddler enough vitamins, minerals, protein and fiber, this is the book for you.
The Baby Bistro Cookbook
"The Baby Bistro Cookbook" is full of tasty cuisine ideas for both infants and toddlers. It contains recipes for meals at home and on the go, ideas for toddlers with food allergies and instructions on how to make and freeze meals ahead of time, which is great for busy moms. This book will help you understand the best way to transition your toddler from simple first foods to complex and delicious grown-up meals.
Toddler Café
The "Toddler Café" cookbook focuses on making mealtime a fun family event. The author, Jennifer Carden, provides fun ideas for naming foods and including toddlers in both meal prep and clean-up. All of the recipes in this book are geared specifically toward toddlers, making this a great resource for your recipe collection.