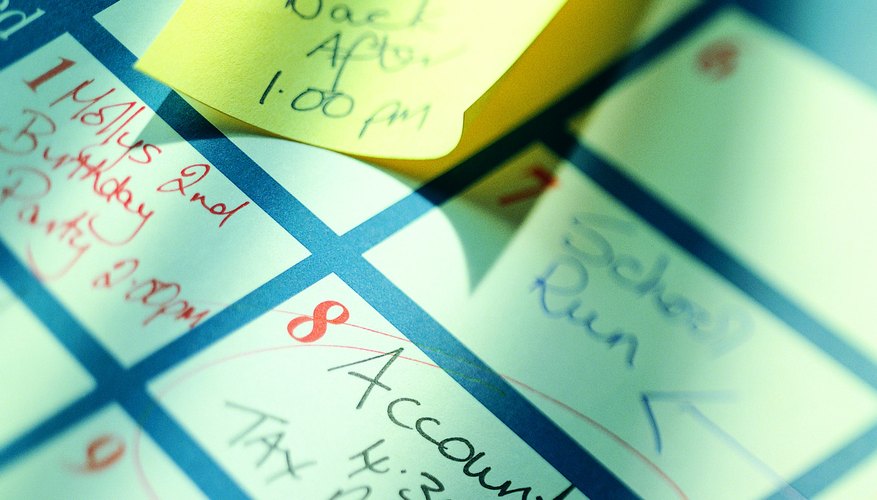 Making sure all the needs of your precious little ones are taken care of while staying on top of the demands of housekeeping can be challenging. If you have a job outside the home in addition to your family responsibilities, it's easy to feel overwhelmed. But if you examine all the things you need to accomplish, prioritize your duties and develop a daily schedule, you'll be surprised by how much easier your life can become.
Make a list of everything that you do every day for your children, spouse and self. Include every task, no matter how large or small. If you are the one to wake the school-aged children and make them lunches to take to school, include this. Develop the list over a few days and add to it whenever you find yourself engaging in an activity that you have not yet recorded.
Create a second list of all activities that you do regularly, but not daily. If your toddler has a play date every Tuesday afternoon, put it on the list. If your 4-year-old takes swimming lessons twice a week, include that too.
Make a third list for the things that you do less frequently. Next to each task, list the frequency with which it needs to be done. If you do your banking every other week, record it and add the number of times you've gone.
Create another list for appointments that you have scheduled or need to schedule over the next six to 12 months. Record any medical or dental checkups for the family on this list.
Include all appointments for servicemen that are scheduled to come to the house, to repair the furnace or trim the lawn, for instance.
Include all the household chores that need to be done. Include everything you can think of -- from taking out the garbage and doing the dishes to scrubbing out toilets and mowing the lawn. Next to each item, record the number of times per day, week or month that it's necessary to perform that chore.
Review your lists with the rest of your family to see if you have forgotten any relevant items and include them if there are any.
Write down the name of the family member who is responsible for completing each task on the list. If you are the one who always drives your preschool daughter to her ballet lessons, put your name next to that activity.
Add a star next to the tasks that you feel are critical, using a red pen. Use a different colored pen to add an "X" next to items that are slightly less important. Use a third color to add a check mark next to tasks that have lower priority. Leave the remaining, less essential items unmarked.
Create three new lists with the headings: Daily, Weekly, Monthly. Move the items from your original lists to the appropriate new list. Consider "downgrading" the frequency of some of the items as you re-write them. If you have been dusting once every week, determine if it's possible to reduce this to every other week and save yourself some time.
Examine the unmarked items and determine whether any can be eliminated entirely to try and reduce your workload. Add the things you feel are necessary.
Delegate as many items as possible to the rest of the family. Although this might not be practical for many tasks, realize that even a 5-year-old can do a reasonable job making his own bed.
Affix a large whiteboard to the wall in a conspicuous place in your house. Hang a calendar that has large squares for writing, close to the whiteboard. Enter all red-starred, critically important items onto the calendar. Consider using a color-coded system for each family member. If you are the one who washes the laundry every day, record that task and all others that you do in one color. Use a different color to record the things your spouse or the older kids are responsible for.
Check the calendar every night before you go to bed and use the whiteboard to develop your daily "To Do" list. List the items that need to be done that day in the order in which they need to be done. Affix times next to each item, so you can plan your day hour-by-hour.
Tip
Have family members use a section of the whiteboard for writing down items they need to purchase or events that spring up that weren't anticipated in advance. Add them to the calendar when you get the chance.