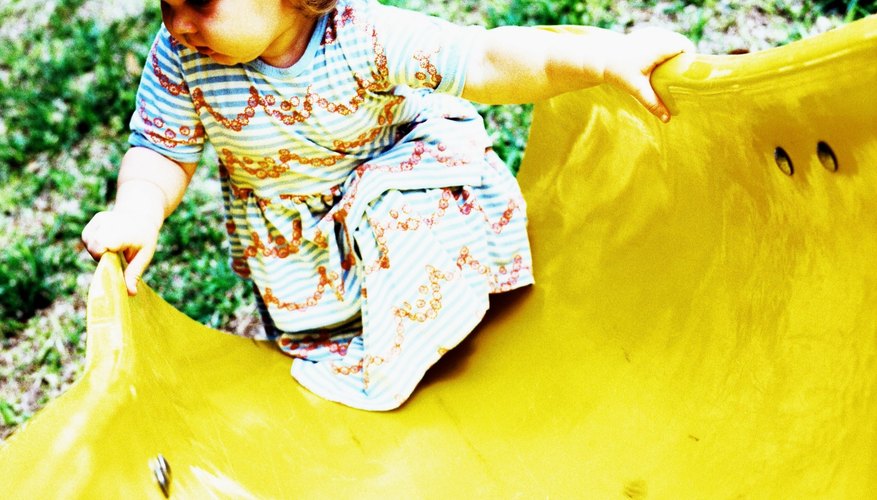 Your toddler is on a serious quest for independence -- "I do it!" has probably become his choice phrase -- and part of this journey is developing the confidence to conquer his physical world. Enter an oh-so-exciting new skill -- climbing! -- and you may literally have to pry him off the dining room chairs, the entertainment stand or the back of the couch. As the editors of Parenting note, toddlers explore the balance between risk and challenge, with climbing being an important milestone that helps them develop coordination skills such as walking up stairs. Tots can test the limits of their small arms and legs on these classic climbing structures.
Play Houses
Simple as it may sound, your toddler gets a major thrill just by climbing up and down the ladder or steps of a play house. Being just a little bit higher than the rest of their world -- and knowing he got there by himself -- is enough to make your tot feel like a million bucks. If you're looking to purchase one, be sure it doesn't have sharp points or edges -- plastic is usually a good bet for this age -- and landings on the second level that have a protective barrier to prevent falls. Get out the chaise lounge, catch some rays and watch your toddler and his buddies be masters of their domain.
Bouncy Houses
If you look up "fun" in the dictionary, there's a picture of a bouncy house. Okay, not really, but these things are an amazingly good time. There are a variety on the market with climbing features, from multi-level castles to activity centers with climb-able ramps and tunnels. When searching for the right bouncy house, check to make sure it has a secure base to prevent toppling. It should also consist of a durable material with reinforced seams so it doesn't easily puncture, and feature breathable netting for the windows for easy ventilation. Climbing AND bouncing = toddler heaven.
Slides with Steps
Slides designed with tots in mind come in a variety of styles. On their ascent to the top, toddlers can climb classic steps, rungs or even a rock wall. Your monkey may want to climb up the slide itself, too, but best to tell him this is a big "no-no" -- otherwise you're in for some dirty looks from disapproving mamas at the playground down the road. Look for a slide with a climbing side at an angle, rather than straight up-and-down, and a top platform with guardrails to prevent falls.
Geometric Climbing Blocks
Cubes, cylinders, triangles -- is this geometry class or playtime? Thankfully, it's still playtime and math is a long way off! Phew. Your toddler will love her first foray into the world of three-dimensional shapes and figuring out the best way to navigate up and down these funky, oversize blocks. Be on the lookout for ones stuffed with firm, resilient foam and a rugged, wipe-clean vinyl exterior. The best part is your mommy danger-radar can take a much-needed day off -- since these blocks are low to the ground, you need not worry about any major falls.