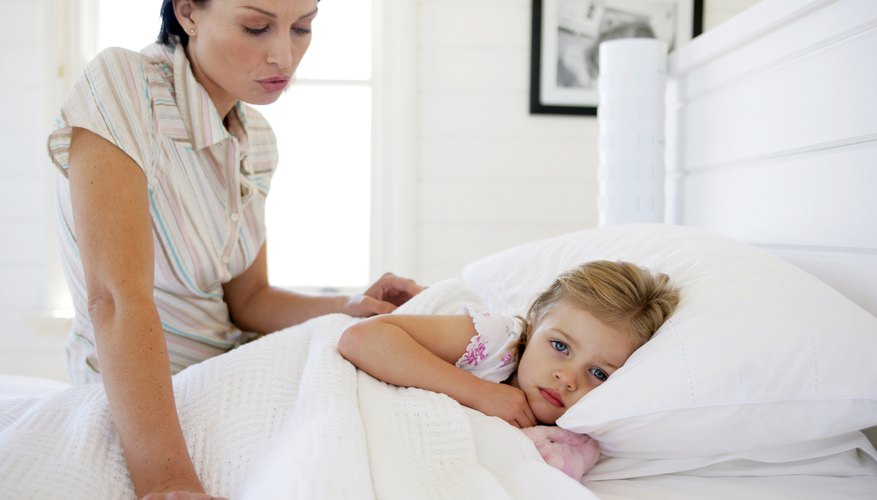 When you have to watch your child go through an illness, it can be hard on both of you, but you can offer entertainment and distractions to cheer your child up a bit. Pull out some games and activities that can be enjoyed while your child is still covered up, relaxing and taking it easy so his body can recover.
Play some games. Cards, board games and puzzles can fill the hours. Crossword puzzles, word games and Simon Says works, too. A trashcan and some wadded up paper can turn into a basketball shooting game.
Read your child books, and use different voices for the characters. Experiment with the speed and tempo of your voice. Act out the scenes if you're feeling up to it. Not only will this activity cheer up your sick child, it helps expand her vocabulary, language skills and literacy.
Take a walk down memory lane with your child. Bring out family photo albums. Point out silly pictures or talk about family celebrations. If you really want your kid to giggle, bring out pictures of you when you were a child.
Encourage your child to tend to a sick teddy bear or stuffed animal. Give him a small first aid kit and let him fix up the little critter. This will take focus away from your child's illness and put him in the caregiver position.
Put on a puppet show. Sit at the end of the bed and play with some puppets. Take turns with the puppets.
Draw pictures of each other in different scenarios. One picture can be of you as a cowboy and your child as a clown. Get creative and have fun with it.