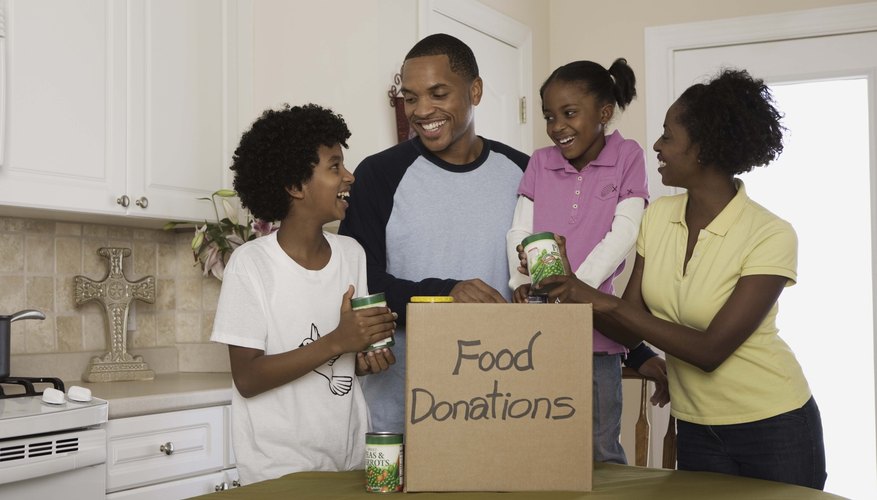 You can't always protect your children from signs of poverty, whether they witness street beggars and homeless people or you drive through a poor neighborhood. The media often shares stories of poverty and hardship that children might come across. Kids are likely to question the lifestyle differences, and parents need to be ready not just to explain why poverty exists, but also to encourage a compassionate attitude toward less fortunate people.
Show Interest
According to BabyCenter.com, children are influenced by parental attitudes towards poverty, and that parents who take an interest in helping poor people inspire their children to do so, too. It's also helpful to explain why you do certain things, so if you would rather give a homeless man a sandwich rather than money, explain to your child that sometimes people spend money on the wrong things, but by giving a sandwich you are helping the man feel less hungry.
Statistics
To help children understand the impact of poverty, you could offer some statistics about poverty. According to The World Bank, 1.4 billion people in the developing world were living on less than $1.25 a day in 2005. Older children might understand these numbers, but younger children may understand poverty better with picture books from the library. If younger children are anxious poverty might happen to them or that their family might become homeless, reassure them. You can also mention famous people your child might know, such as Oprah Winfrey, who have overcome poverty to become successful.
Helping
Children often want to do something about poverty themselves. While in some cases this may not be appropriate, such as asking if a homeless man can come and live with the family, there are still lots of other ways to help those less fortunate. Healthychildren.org suggests a family can forgo a weekly pizza night and donate the saved money to a charity the children support. The non-profit charity guide Charity Navigator recommends making food parcels with your child to donate to a food bank. You could also help your child to pick out a toy in a store for a local shelter, children's hospital or toy bank.
Volunteering
Volunteering is an ideal way for children to experience and learn about poverty first hand, as well as a way to learn compassion and life experience. KidsHealth recommends that families talk about where they would like to volunteer together, such as serving food at a local homeless shelter. Kids will learn about poverty through hands-on activities, as well as being inspired from seeing their parents help poor people. While some volunteer organizations may not allow children younger than 12, Charity Navigator says there are lots of volunteering opportunities for kids of all ages if you ask around your community.