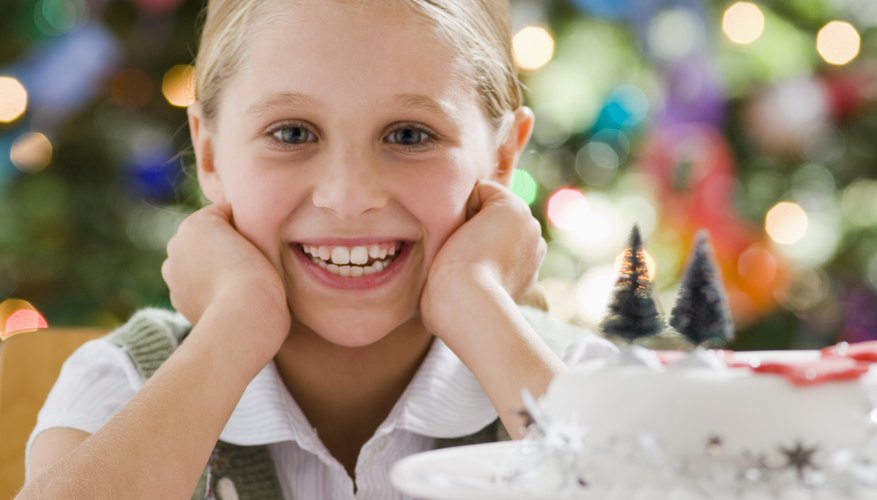 Being a Christmas baby isn't always a gift. Though having her birthday fall during school vacation is a perk, it's easy for a child to feel like her special day is lost in the shuffle of the holidays or folded into other family celebrations -- and receiving dual Christmas and birthday gifts will strike her as colossally unfair. Making her party truly memorable might require thinking outside the box.
Pick an Unexpected Theme
When the Christmas season is in full-swing, the holiday is a daily theme. Make your child's party different by choosing a theme that has nothing to do with December 25th. Throw a luau, complete with blow-up palm trees, Hawaiian music and limbo contests. Choose a baseball theme for a sports nut, even though baseball season is months away. Play highlight reels on TV, hold indoor pitching and catching contests with soft balls and take the guests to an indoor batting range. Or make things simple with a general summer theme. Set up an ice-cream bar and let party guests sprawl on beach towels to watch kids' summer movies.
Pick an Unexpected Time
If your Christmas baby really resents having to share her birthday with a major holiday, suggest holding the party well in advance of or after Christmas. Plan an October apple-picking party, or make a tradition of holding her birthday party on his half birthday during the summer. Even a November or January party gives him enough space from Christmas to feel like his birthday is the real focus of the day; if he can't wait that long, hold a New Year's Eve sleepover for older kids. Another option that some kids might love: Make his party a surprise each year. Throw it in February one year and August the next, never letting him know when to expect it. Just be clear that he gets one party per calendar year, and be sure to have a small family gathering for cake and a rendition of "Happy Birthday" on his actual birthday.
Make It a Tradition
Christmas is all about tradition. Include some holiday tradition in her birthday parties and her pals will look forward to the event all season long. Set up a tree that's just hers; each year, let her guests create different ornaments and use them to trim the tree. (Have each kid make extras to take home as party gifts.) Center her party around caroling each year, gathering party guests at your place to practice songs first and returning home for cake, presents and cocoa later on. Using the party to do good for local people in need teaches your child and all of her friends a valuable holiday season lesson. Invite the kids to make cards for children in the hospital or take them to sing carols at a senior citizen center.
Opt for Small and Special
The holidays are hectic for most families, not to mention yours. If your child invites a large group of kids to his party, some are bound to decline (hurting his feelings) yet still leave you with a big group to entertain (adding unneeded stress to your life). Consider taking advantage of local holiday events to make his party a small and truly special affair. Take him and two or three friends to a production of "The Nutcracker," to the town Christmas lighting or to a screening of a new holiday cartoon movie. Give each child a few dollars and let them shop for holiday gifts at a store, then take them to a restaurant for a sit-down meal. They'll feel like grown-ups -- and you won't have to clean your house.