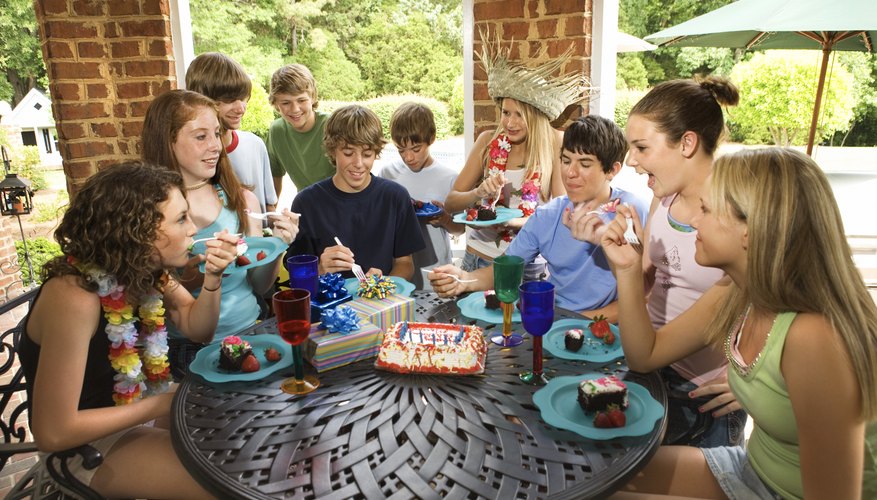 As if the white sand beaches, the warm Gulf of Mexico waters and the balmy, tropical weather wasn't a big enough draw, Panama City, Florida is also home to a host of family-friendly attractions and museums for kids of all ages. Many of these attractions are also ideal birthday party locations for kid. In particular, if you are planning a birthday party for your son and his buddies, many of these attractions include classic, quirky and exciting features that precocious little boys will love.
Kid-Friendly Museums
WonderWorks is a one-of-a-kind, quirky museum filled with cool science-based activities that will keep kids entertained for hours. Your little boy and his buddies may be particularly interested in exhibits like Virtual Soccer, which stimulates a real soccer-playing experience, or the Fighter Pilot exhibit, where he is transformed into a jet pilot and learns how to fly a military plane. WonderWorks offers several birthday party packages to choose from, which include admission, a party room, pizza and arcade tokens. Another museum experience your kid might enjoy is Ripley's Believe It or Not Museum, full of strange and unique relics and factual oddities. Made to look like the sinking Titanic, the museum includes exhibits of shrunken heads, a vintage car covered in gold coins, a challenging laser race and a 4-D moving theater experience. Ripley's does not have party packages but you can easily enjoy pizza and cake at a nearby restaurant before or after a visit to the museum.
Water and Beach Play
Celebrate your son's birthday on a hot day at Shipwreck Island waterpark, where he can enjoy a gigantic wave pool, tube rapid rides, water slides and the massive 750-gallon Tipping Bucket jungle gym. For very young boys, the Tadpole Hole offers pint-sized slides and water attractions. Shipwreck Island doesn't offer specific birthday packages, but does have group admission and food options, as well as shaded picnic areas, perfect to celebrate your little guy's big day. You can also opt to have a beach birthday party somewhere along the 27 miles of white sand beaches that Panama City offers. Set up a screened tent and a table for non-perishable food. Keep perishable foods like fruit, veggies and the birthday cake on ice. Plan rough and tumble games on the sand that rambunctious little boys will enjoy, such as tackle football, foot races and soccer.
Fun With Animals
Take your animal-loving kid to Zoo World, for his birthday, a conservatory that is home to more than 250 exotic animals, such as Bengal tigers, leopards, monkeys, alligators and parrots. The conservatory puts on several animal shows daily that your son and his friends may be interested in such as the alligator and wolf shows. Zoo World also offers birthday party packages that includes a zoo admission, a party room, birthday cake, ice cream and a photo of your child with an animal. For the dolphin fanatic, Gulf World Marine Park is the place to be. Kids will not only have the chance to see and pet dolphins, children ages 5 and older can actually get in the water with the dolphins and trainers. Your little boy may also want to see the reptile show, or watch the trainers demonstrate how they feed the sharks. Birthday party packages at Gulf World Marine Park include park admission, pizza and drinks, a birthday photo and a dolphin-themed birthday cake.
Other Cool Options
Dress your son in his pirate best for a birthday party aboard the Sea Dragon Pirate Cruise ship. The cruise includes family-friendly pirate re-enactments with audience participation and kid-friendly activities, such as shooting fake cannons, water gun fights, swabbing the deck and treasure hunts. It offers an area for parents to relax and enjoy the cruise while the kids play as well. Birthday party packages include birthday cake, face painting, pirate hats for all attendees and pirate certificates. Other cool places ideal for boys is Race City, the ultimate family entertainment center in Panama City. Race City attractions include miniature golf, bumper cars, a host of carnival rides and six different go-kart race tracks, including a multi-level track. Race City doesn't have specific birthday packages, but offers group discount packages for large groups.