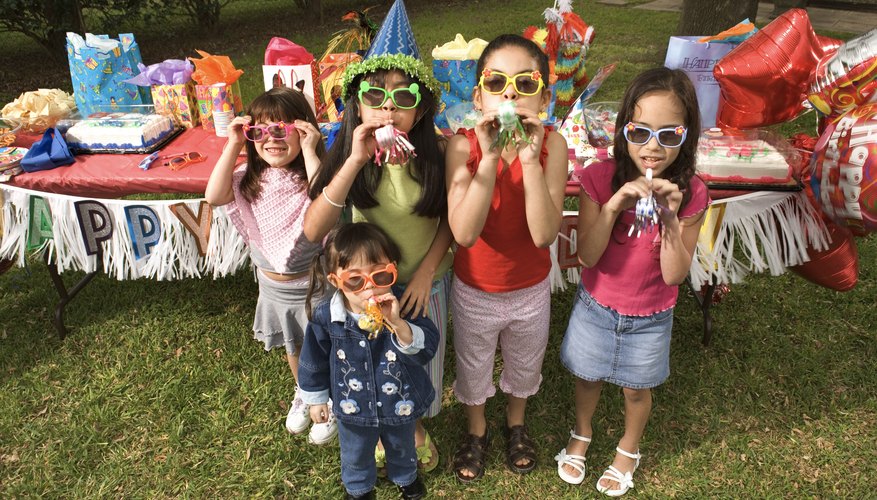 Instead of adding to the local landfill pile -- according to the U.S. Environmental Protection Agency, people in the U.S. throw away roughly 250 million tons of garbage per year -- take a turn for the earth-friendly. While pretty plastic baggies with candle and cake designs are cute, choosing a more biodegradable birthday party favor for your little one's big bash is an environmentally conscious move that can help the planet.
Party Favor Bags
Make your child's birthday party favors completely biodegradable by handing them out in eco-friendly bags. While cellophane or plastic goodie bags are here to stay, you can swap the standards out for a biodegradable version. Biodegradable bags might look like the regular versions, but are made from alternative sources such as plants and vegetable oils. Look for the ASTM D6400 specification certification that states that the bag is certified as compostable. If you can't find a bag that matches your child's party theme, go with a plain lunch-sack type version and add your own design with food coloring or vegetable-based paints.
Plants
Why give your child's party guests a party favor that they simply toss out when they get home? Instead of choosing plastic toys or a similar favor, opt for plant life. Toss a few seeds such as sunflower or pumpkin varieties into a biodegradable bag and give the kids instructions on what to do with them when they go home. Another option is to give each child a seeding that is already started and ready to transfer into a bigger pot or the backyard.
Foods
Filling a party favor bag with sugary sweet candy might delight the kids, but those plastic wrappers won't biodegrade. Between the birthday cake and other refreshments such as cupcakes and cookies your child and her friends are sure to get more than enough sugar during the party. Send the kids home with a goodie bag stocked with foods that are good for them. Choose a medley of traditional and completely biodegradable fruits such as apples, pears and bananas. For a slightly more exotic feel, pack the party favor bag with mangoes, Asian pears and kiwi or go with a mix of dried coconut, apricots and banana chips.
Renewable Toys
Not all toys are made from plastic. You can choose a few favors that are made from bioplastic -- a corn-based, biodegradable, PVC-free alternative material -- such as Zoe B's beach toys. These plastic-like toys will slowly break down over the course of several years instead of sticking around for centuries. Another easy, and less pricey option, is to send the guests home with biodegradable balloons. Look for balloons, or water balloons, that are made from biodegradable latex.