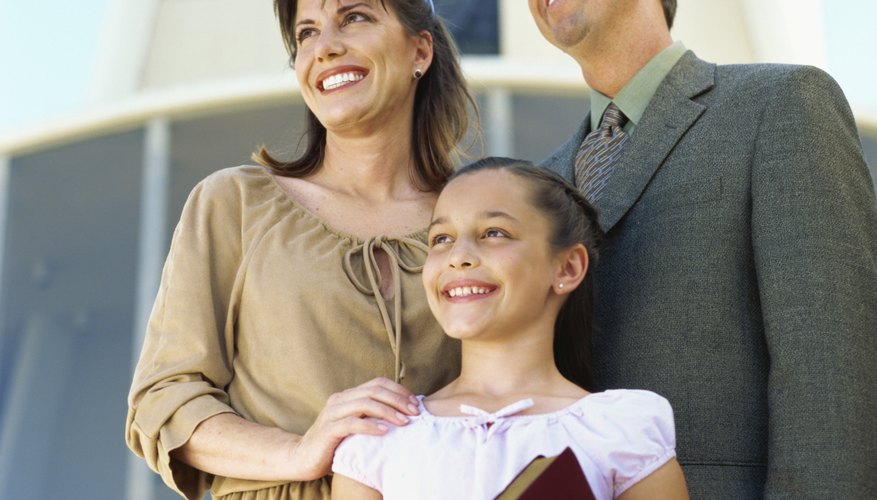 Use Bible activities as a launching pad for discussions about the importance of obeying parents. Lessons and memory verses regarding Bible characters who either obeyed or disobeyed will become more concrete through hands-on crafts and games to reinforce the topic. Through diligent lessons and discussions, you can "train up a child in the way he should go, and when he is old, he will not depart from it." (Proverbs 22:6)
Puppets
Engage a preschooler with a puppet activity about Bible characters such as Abraham and Isaac. Use brown lunch paper bags as a base and draw on a face and flowing garments. Glue gray yarn onto Abraham for his hair and beard. If you have a mismatched glove left over from last winter, transform it into finger puppets. Cut off the fingers from the glove and glue on hair for the father and son pair. Sew on tiny black buttons for eyes and smiles. During the craft, talk about how Abraham obeyed God and Isaac trusted his father on their journey to make a sacrifice.
Bible Character Comparisons
Reinforce the lesson about obedience through a comparison of Bible characters and their actions. Download or draw pictures of Samson, Joshua, Jonah, Moses, Noah, Abraham, Adam and Eve. Use the miniature characters to prompt a discussion about which ones obeyed and which ones didn't. Use the results of those actions to prove the rewards of obedience. If you have an older child, write the names of the Bible characters on a worksheet. Have him circle which ones listened, then let him tell you the stories and consequences of the ones who did not obey.
Wilderness Wander
Create an activity based on Joshua, Caleb and the 10 other spies who went to search out the land. Even though God told them He would give them the land, all of the Israelites except Caleb and Joshua were too afraid to trust and obey. Because of their inability to trust, they ended up wandering in the wilderness for decades. Use the lesson to talk about how sometimes the directions parents give may not make sense, but children should trust and obey anyway. Practice a wilderness journey in your own backyard to reinforce the lesson. Blindfold and lead your child around the yard as concrete practice in trusting and following.
Memory Verse Pictures
Your child can create a permanent reminder of what the Bible says about obeying parents with a memory verse picture. Use a small section of poster board for him to write the scripture from Ephesians 6:1 with the reminder: "Children, obey your parents in the Lord, for this is right." Decorate the scripture with a border of stickers or clip art. For a similar project, make a booklet with scriptures about obedience and illustrate the pages with picture cutouts from magazines showing children and parents.