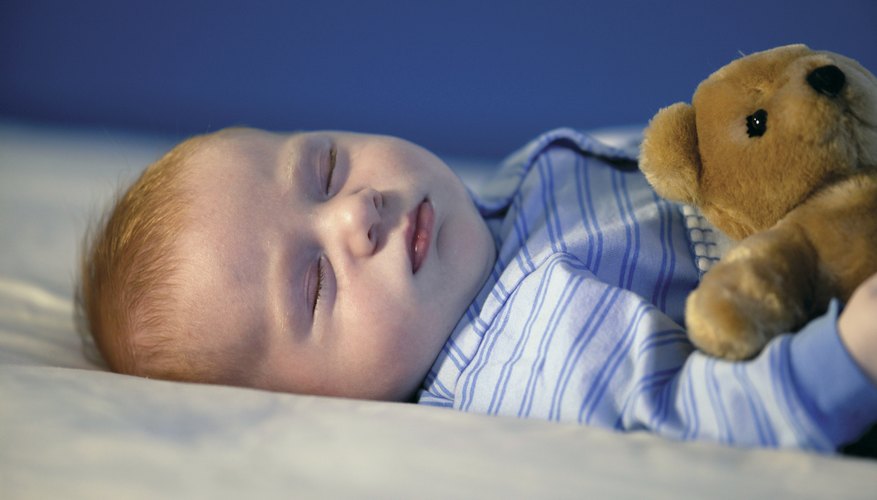 A stimulating daycare environment can create sleeping challenges for babies. An alternate sleep situation, void of homey smells and a regular nap time routine, can leave an infant unable to sleep. By establishing a soothing environment for babies, one where nap time comes easy after a little TLC, you lessen possible sleep challenges and build confidence with parents who, upon pick up, have a well-rested child.
Create the Environment
Dedicate a specific a room in the daycare for sleeping, if possible. If not, partition off a quiet section of the main facility.
Place pack and plays or cribs on one side of the room or allotted space and seperate them appropriately. Refer to state regulations and specific requirements. Lay out sleeping mats on the other side of the room for older toddlers.
Load a music player with white noise CDs or MP3s. Ocean sounds, chirping crickets and other soothing nature sounds work well.
Create a stock of backup blankets, sheets, soft toys and sterilized pacifiers. These items come in handy when a parent leaves their baby's regular ones at home.
Cater to Individual Needs
Meet with the family of a new baby and thoroughly discuss the child's schedule, sleep habits and general disposition. Approach the topic gently, be a good listener and take notes.
Encourage families to bring a familiar blanket or toy from home. Place this in the baby's crib at nap time or let the item become part of the child's day as he becomes familiar with the new setting.
Follow each baby's nap time routine carefully. This may involve reading a book, feeding them a bottle or wearing them in a sling before you put them down.
Jot down notes documenting each child's sleep times and any potential issues. Communicate these with parents at pick up.
Work through any problems with sleep or the routine by addressing them first with parents. Then, adapt and implement various solutions until the situation remedies.
Tip
A baby used to sleeping in an active environment may sleep better in a crib placed in the corner of the playroom.
Breastfed babies whose sleep routine involves nursing may need comforting from their mother at first. Encourage nursing mothers to take their work break at nap time and visit the daycare to nurse their baby down. Eventually, have the mother bottle feed. Once the bottle feeding is firmly accepted by the baby, you should be able to get the baby down on your own.
Warning
Always place young babies on their backs to sleep. Tummy sleeping has been linked to SIDS (Sudden Infant Death Syndrome).