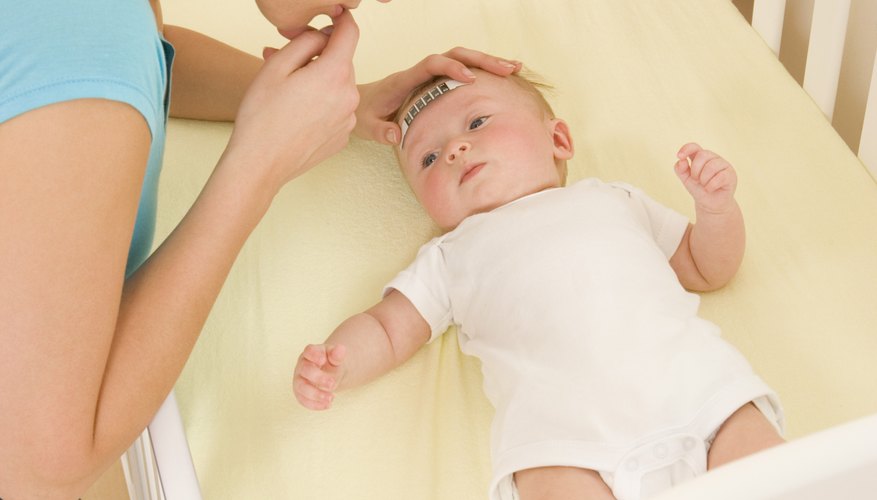 Common colds are an infection of the upper respiratory tract. According to the Mayo Clinic website, babies often have as many as seven colds during their first year of life. Babies who are in daycare may have more colds early on, but often have fewer colds than children cared for at home as they grow older.
Daycare and Colds
Although babies and toddlers in daycare may get more colds initially, their immunity is built up so they get fewer colds later in childhood according to Dr. Alan Greene, pediatrician and founder of DrGreene.com. According to February 2002 issue of the "Archives of Pediatrics and Adolescent Medicine," children from ages 6 to 11 who attended daycare experienced 66 percent fewer colds than their peers who had not attended day care. Another study published in the December 2010 issue of the "Journal of the American Medical Association Pediatrics" found that children cared for at home before 2.5 years had fewer upper respiratory tract infections at the time, but had more of these infections during the elementary school years.
Daycare Inspection
Before choosing a daycare, visit a variety of centers to inspect the cleanliness. Daycare facilities that make cleanliness and disinfecting a priority may reduce the risk of colds. Toys should be cleaned daily at a minimum and employees should wash their hands in between interacting with each baby. Inspect the facility for sink in every room or readily available hand sanitizer. Research the daycare's policy on sick children and the guidelines as to when children need to stay home. Ask your doctor for guidance on sick policies when considering a daycare facility. Although you want to avoid exposing your baby to illnesses, you also want to consider whether you can take off work every time your child has a mild cold symptom, such as a runny nose.
Cold Symptoms
Whether or not your child is in daycare, watch for cold symptoms. When babies have a congested nose or nasal discharge, they are often exhibiting the first signs of a cold. Other symptoms may include sneezing, coughing, a fever or tugging on his or her ears, which can indicate an ear infection. Babies sometimes have difficulty nursing or drinking from a bottle with nasal congestion, so watch for a decreased appetite. Irritability, difficulty sleeping or red eyes may also be indications of an illness.
Care for Babies with Colds
Ask daycare providers to alert you immediately if your baby is showing any signs of a cold. Infants are at a higher risk than older children for developing more serious infections, such as pneumonia, as a result of a cold. Newborns have had a very short time to build up their immunity, so they are at a higher risk for developing more serious complications. Call your doctor immediately when your baby is younger than three months and exhibits signs of a cold. As your baby grows older, your doctor will advise you when an office visit is necessary. When fighting a cold, provide your baby with plenty of fluids and use a humidifier to keep the air moist.