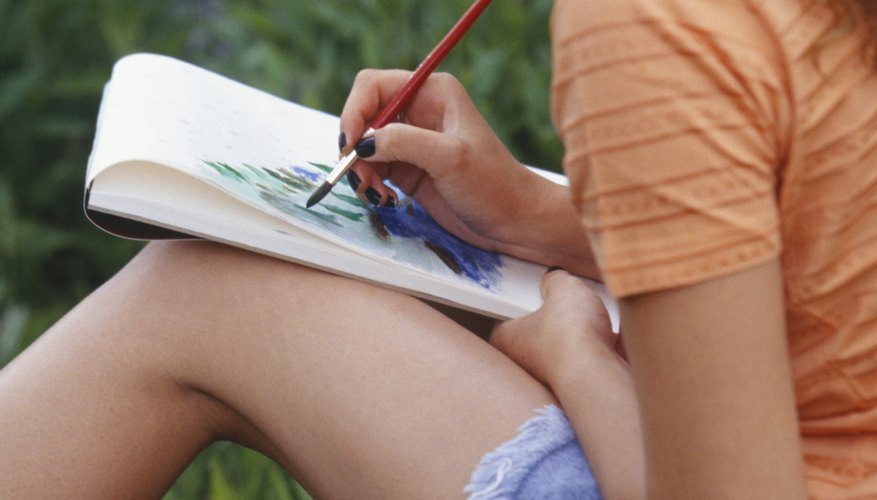 Art is a means of expression and representation for people of all ages. When helping teens choose a topic for their artwork, consider their interests, abilities and passions. The best art topics are ones that young adults have a personal, vested interest in attempting to express or represent creatively.
Self
Adolescence is a time when teens explore who they are and what they should become. Oftentimes, the answers aren't readily apparent, and some discovery and soul-searching is in order. Help teens determine their identity with art projects designed to help young adults reflect and represent the characteristics and features that make them who they are, or want to be. Collages, self-portraits and murals can all foster reflection and representation of self-identity. Encourage teens to be creative when representing themselves artistically and to think about how colors, descriptive language and symbols might help express who they are at heart.
Emotions
The teenage years are a time of emotional ups and downs. Increased independence and autonomy, new relationships with peers and the "storm and stress" that hormonal changes bring can lead to emotional highs and lows. Art projects can help teens sort through their emotions in a healthy and expressive way. If asking your teen to represent her emotions with paint and canvas seems too broad, narrow the topic by challenging him to represent a specific emotion he's experienced, such as love or anger.
Music
Music makes an appropriate, relevant art topic for teens in several different ways. Firstly, children discover the joys of music as a form of expression in the early adolescent years, and one would be hard-pressed to find a teenager who doesn't deeply enjoy and connect with it. As an added bonus, music can be quite challenging to represent through the visual arts, which makes it a challenging topic that promotes creativity and critical thinking skills.
Personal Interests
Teenage interests vary, but one thing most teens have in common is that they enjoy telling others about what they like and what they do. Inspire your teen to choose an art topic that expresses or demonstrates his personal interests in some ways. If your teen is on the baseball team, for example, he may enjoy working on a collage that incorporates team colors and personal stats. Or, if your teenager is developing a big interest in environmental conservation efforts, she may find purpose and take deep satisfaction in painting a portrait that envisions the outcomes of global warming or over-fishing.