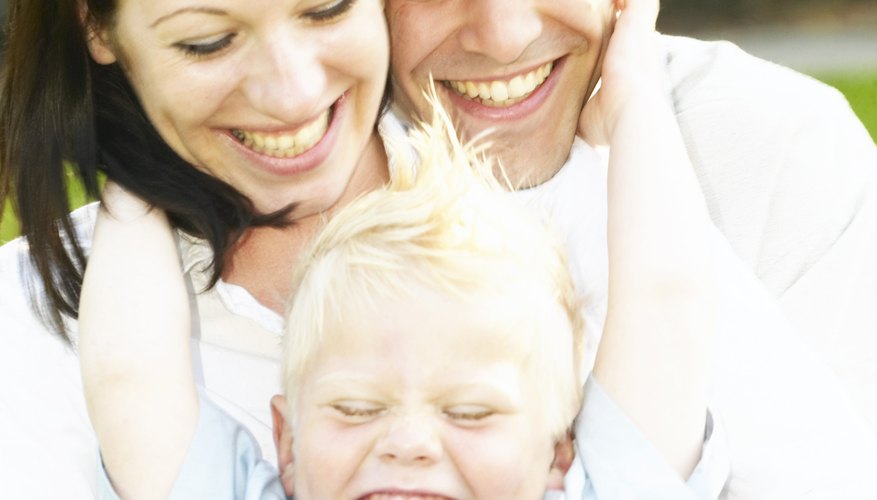 Elements that impact your parenting style can include cultural background, learned behaviors and family structure. Regardless of the parenting style you choose, you can take to ensure you raise productive, self-sufficient children. According to an article from MedlinePlus, a service of the U.S. National Library of Medicine from the National Institutes of Health, successful parenting includes child safety, enforcing boundaries, leading through example, monitoring social activities and spending time together. Good child rearing also includes helping your children develop self-confidence.
Building Self-Confidence
A competent attitude in your children helps your child try new things and meet challenges head on. In a 2010 article "Raising Confident Kids" published on KidsHealth and reviewed by D'Arcy Lyness, Ph.D., self-confidence comes from success in achievements. Allowing your child to attempt new things under your supervision builds that success. Whether it is making a sandwich, learning to tie a shoelace or singing a new song, encouraging success in your child is part of good parenting.
Unconditional Love
Unconditional love is an important part of good parenting, according to an article entitled, "About Raising Children" published on the Alabama Cooperative Extension System website. The Alabama Cooperative Extension System consists of Alabama A & M University and Auburn University. Even when children are not behaving appropriately, unconditional love should be a given. Children need to know that you will love them without reservation, and without conditions so they have a solid foundation in life.
Discipline
Discipline teaches children about life consequences, and should be fair, firm and consistent. Consistency is vital so that your children learn that there are consequences for their choices. "About Raising Children" states that you should do what you say you will do. For example, if you tell your children that they will be grounded from the phone for a week if they do not clean their rooms -- and they don't clean their rooms -- then you must ground them from the phone for a week.
Sharing Time
Children who spend time with their parents develop good self-esteem, according to the article, "Raising Confident Kids" on KidsHealth. Listening to what your children have to say and taking an interest in their feelings, activities and education, sends the message that you value them. Whether you are riding bikes together, attending school recitals or sharing a hobby, giving your child the gift of time is part of good parenting.